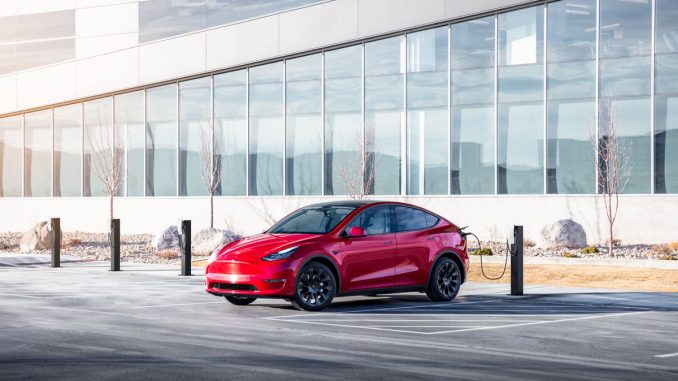 Tesla looks like it might finally be getting ready to add the Model Y Standard Range to its online configurator after code for the new variant was added to the website on New Year's Eve. It is not a guarantee however, as this code first appeared on the website days after the new variant was announced at the Cyber Rodeo back in April.
Known as Model Y Standard Range, the new variant features Tesla's latest technology in the form of a structural battery pack and 4680 cells. This new variant is only built at Giga Texas, and was first announced at the opening of the factory in April where as many as 20 units were delivered to employees.
Since then we have seen the Model Y Standard Range be offered to some customers in the US who had ordered a Long Range variant, and some units appear on existing inventory, but the variant has yet to be added to the Design Studio for customers to order.
We thought that was going to happen just days after the Cyber Rodeo when for the first time the $MTY14 variant was added to the Design Studio's source code. We knew it was the new variant as it had a 279 mile (449km) range and 5 second 0-60mph acceleration that was listed by the EPA.
Now that code has reappeared leading again to speculation that Tesla is preparing to launch the new variant. The new code was spotted on New Year's Eve by third-party inventory tracker WaitingForTesla.com, who noted it also came with a price of $61,990, the same price we saw the last time it appeared on Tesla's website.
⚠ New Tesla MY Model Y All-Wheel Drive ($MTY14) Found in Tesla Configurator Source Code for $61,990

— WaitingForTesla.com (@w4tsla) December 31, 2022
As of the most recent update from Tesla just last month, they have been able to ramp 4680 cell production and can now produce nearly 900,000 cells in a seven day period. That is enough for Giga Texas to build 1,000 Model Ys per week with the new cells. Giga Texas is currently producing 3,000 Model Ys per week with the traditional 2170 cells.
If the new Model Y Standard Range is added to the Design Studio soon, and it comes with the price of $61,990USD, it will not qualify for the $7,500 tax credit in the US. As revealed last week the five seat variants of the Model Y are not considered as SUVs and are therefore capped at a maximum MSRP of $55,000, so unless Tesla drops the price to under that limit, it will not qualify.
Leaked photo shows Tesla Cybertruck frame for the first time [Update]