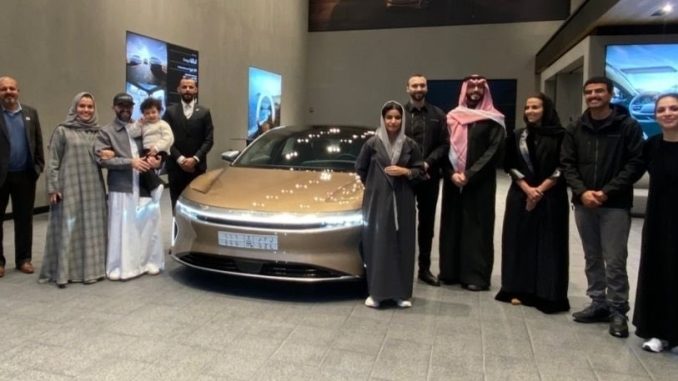 Only days after Lucid started deliveries in Europe, the company made its first deliveries in Saudi Arabia. The automaker held a ceremony at their first store in the Middle East in Saudi Arabia's capital of Riyadh earlier this week, where Twitter user @SaudiEV got the scoop and some pictures from the ceremony.
"Handing over a car to one of the customers at the company's showroom in Riyadh .. Congratulations," the Twitter user wrote with the picture, without detailing how many or which Lucid Air variants were being delivered, although it was likely the limited Dream Edition.
تسليم سيارة #لوسيد لأحد العملاء في معرض الشركة بالرياض .. ألف مبروك وربنا يعطيهم خيرها ويكفيهم شرها #LucidAir #lucidmotors pic.twitter.com/eHbXIeUU7B

— أيمن باجابر (@SaudiEV_) January 1, 2023
Surprisingly Lucid hasn't officially announced the start of deliveries in Saudi Arabia, a country that is a major investor in the company and where they are currently building their second manufacturing facility. The Saudi Arabian government has also committed to buying 50,000 Lucid Air sedans over the next ten years, with an option to increase that order to 100,000.
While Lucid hasn't officially announced the deliveries, they have had other major announcement in the last week.
They of course announced deliveries in Germany and the Netherlands, as well as the start of deliveries of their entry-level Air Pure sedan in California.
The company hopes that expanding its operations will help make the company more liquid. Over the last few months, the company has been trying to increase its cash flow. Lucid completed its first at-the-market offering in November, which raised around $600 million. Lucid also raised funds by selling off shares to Ayar Third Investment company out of Saudi Arabia.
After these moves, the company gained $1.515 billion in liquidity, which should help keep the company afloat longer than their previous cash reserves which would have kept them going through Q4 2023.
With the upcoming launch of the Gravity SUV and their deals with the Saudis, Lucid certainly is in a make-it-or-break-it situation over the next few years.