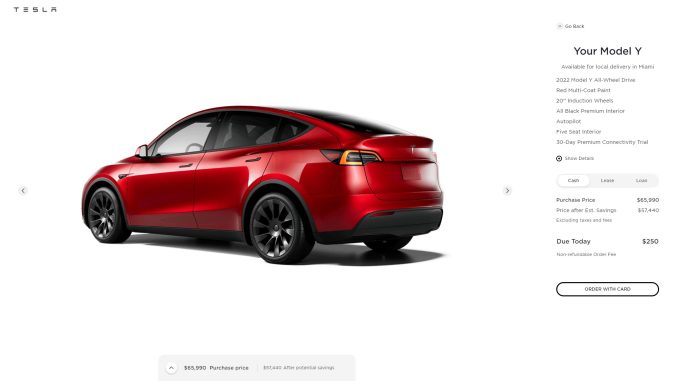 The Model Y All-Wheel Drive (AWD) made at Giga Texas isn't available to order on the Design Studio yet, but you can now buy one through the existing inventory section of Tesla's website.
The new Model Y variant was added to the site on Wednesday afternoon, with six different vehicles being spotted by the Waiting For Tesla bot, which tracks new additions to the website.
All of the vehicles were located in Miami, Florida. They were finished in all six of Tesla's available colours and all had black interiors. Several had already disappeared from the site within minutes of them being added, meaning they were quickly snapped by eager buyers.
Hopefully they knew which vehicle they were purchasing, because it is not immediately clear that they are from Giga Texas. The biggest giveaways are the range and price.
The range on the Model Y from Austin is 279 miles (269 miles if equipped with the larger 20″ Induction wheels) compared to 330 miles (318 miles with Inductions) on the Long Range from Fremont.
The price is also cheaper. As we told you earlier today, the 4680 Model Y saw a $2,000 price increase this week, bringing it to a base price of $61,990. The Model Y LR now starts at $65,990.