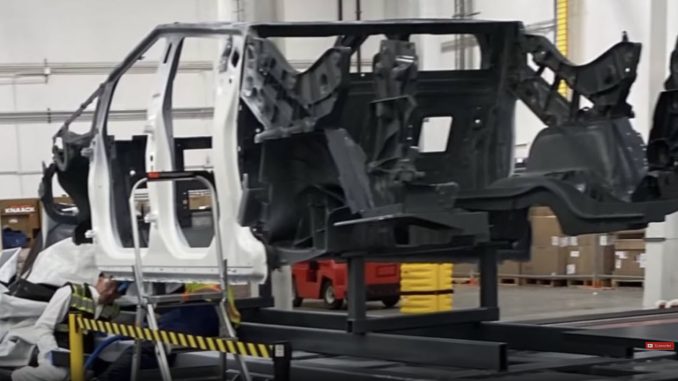 With production of the Tesla Cybertruck inching closer, we are now getting our first look at the electric truck's massive frame thanks to a new photo taken from inside Giga Texas.
Several weeks ago two Cybertruck bodies were spotted arriving at Giga Texas. The two bodies were covered in white plastic, but the unmistakable shape of the Cybertruck was impossible to disguise.
Now it looks like Tesla has started working on one of those bodies and a photo of it has been leaked.
Tesla enthusiast Kim Java shared the photo in a video published on Friday afternoon. According to Kim she received the photo from an anonymous source, but was unable to provide many more details about it.
UPDATE 9:59pm PT: Kim tells Drive Tesla the picture was taken late last week, likely within the first day or two of December.
One thing that was notable about the photo is that above the Cybertruck there is a sign that says "Powder Coat," and based on the white left side of the Cybertruck frame it does appear to be partially coated, with some overspray.
Some of the other details we can see from the photo is that it appears this Cybertruck frame consists of at least two distinct pieces. The rear looks to be a megacasting, either with two castings, one for each side of the truck, or one single casting with the two sides joined by the bed, although the angle of the photo makes it difficult to tell if that is the case.
The front of the truck does not appear to be a casting and looks more like the 30X cold-rolled stainless-steel that Tesla said would make up part of the Cybertruck's exoskeleton.
Another feature that that many fans have been asking for is a pass through from the bed of the truck into the cabin, but based on the angle of the photo it does not appear to have one.
Based on drone flyover of the factory, the 9,000 ton IDRA Giga Press that will be used for Cybertruck production has not arrived at Giga Texas yet, so these were likely produced off site and brought to Austin for additional work. As we said above, this could be one of the bodies that arrived at Giga Texas back in October.
Even without the Giga Press, this is a good sign that Tesla is progressing and on track to meet their target of beginning Cybertruck production at Giga Texas by mid-2023.
Do you spot anything else interesting about the Cybertruck frame? Let us know in the comments below.
You can watch Kim's full video below. The Cybertruck appears at 2:30.