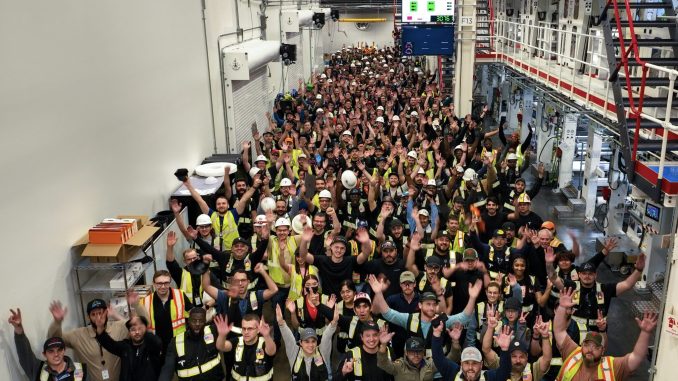 Tesla has recently hit a milestone in producing its newest battery cells, the 4680. In just seven days, the EV company produced 868,000 of these cells, enough to produce 1,000 EVs.
Tesla took to Twitter to celebrate the milestone and congratulate the team.
Congrats to the 4680 cell team on achieving 868k cells built in the last 7 days—equal to 1k+ cars! 🔋 pic.twitter.com/CaC7Js9aEL

— Tesla (@Tesla) December 25, 2022
Tesla currently produces the new batteries at its pilot line near the Fremont factory. Samsung SDI is also reportedly building a pilot plant for the 4680 battery in South Korea. However, Giga Texas also has its own battery production line.
The 4680 cells are an important part of Tesla's plans for the future. They are larger and more energy-dense than the company's previous battery cells, known as the 2170 cell, meaning they can store more energy in a smaller space. This makes them ideal for electric vehicles, allowing for longer driving ranges and faster charging times.
The cells are also much cheaper to produce than the 2170 cells, thanks to their simpler design and the use of more readily available materials. This will help Tesla drive down the cost of its electric vehicles, potentially making them more affordable for consumers.
Tesla's production of the 4680 cells has been ramping up in recent months, after making some improvements to its manufacturing process that increased efficiency and reduced costs.
These efforts have paid off, as the company produced 868,000 cells in seven days. It demonstrates the company's ability to scale up its production to meet demand.
The 4680 cells will be used in Tesla's upcoming vehicles, including the Cybertruck and the Semi truck. They will also be used in the company's energy storage systems, which are used to store excess energy from renewable sources such as solar panels.
Cybertruck production is getting closer, with Tesla taking delivery of 66 Kuka robots and parts of the 9,000 ton Giga Press.