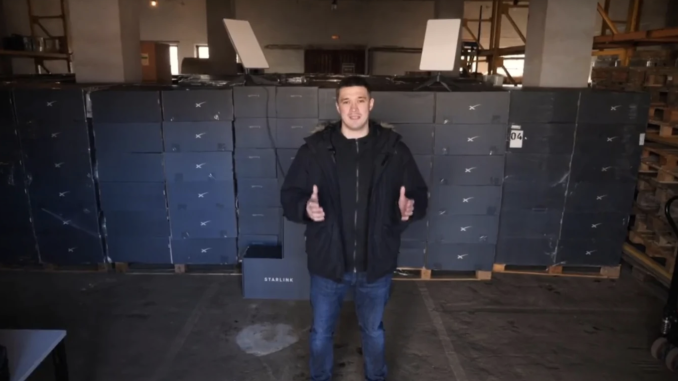 Vice Prime Minister of Ukraine and Minister for Digital Transformation Mykhailo Fedorov has confirmed Poland has delivered one of the biggest shipments of Starlink terminals yet to the war torn country.
Federov did not confirm the exact number of Starlink terminals that were delivered, but he announced the delivery in front of a warehouse full of terminals, noting that this was just the first shipment and expects more in the coming weeks.
New batch of Starlinks from Poland: one of the biggest shipments ever. Terminals will support Points of Invincibility; energy and medical sectors. We're doing everything possible, so Ukrainians communicate during blackouts. Thanks to @MorawieckiM, @jciesz, @IL_PIB & @ORLEN_Group. pic.twitter.com/9LEL24FDFM

— Mykhailo Fedorov (@FedorovMykhailo) December 30, 2022
In a video message, Fedorov said the following:
"Today we received one of the biggest shipments of Starlinks during a full-scale invasion. This is just the first batch and over the next weeks we will receive even more Starlinks. I want to thank our Polish colleagues, who helped us to purchase these Starlinks. Thanks to the Prime Minister of Poland, Mateusz Morawiecki, thanks to my digital colleague Janusz Cieszyński. And I also thank the National Institute of Telecommunications of Poland and Orlen company. Thank you all. This is one of the largest shipments in general for these 10 months. These Starlinks will support Points of Invincibility in order to ensure constant communication for all citizens of Ukraine during blackouts. And secondly, we will help the energy infrastructure, the medical infrastructure, the civil sector. I am grateful that we have the opportunity to use satellite communication now during a full-scale war. This is our competitive advantage. I thank all partners who are working on this and helping us. We will continue to communicate with SpaceX, we will continue to do everything to ensure that our military and our civilian sector receive Starlinks. This will help us bring our victory closer every day. Thank you all for your support. Salva Ukraini!"
We would think this order would be part of the 10,000 Starlink terminals that we reported in December.
The 10,000 terminals were purchased via the European Union in agreement with Starlink.
New batch of Starlinks from Poland: one of the biggest shipments ever. Terminals will support Points of Invincibility; energy and medical sectors. We're doing everything possible, so Ukrainians communicate during blackouts. Thanks to @MorawieckiM, @jciesz, @IL_PIB & @ORLEN_Group. pic.twitter.com/9LEL24FDFM

— Mykhailo Fedorov (@FedorovMykhailo) December 30, 2022