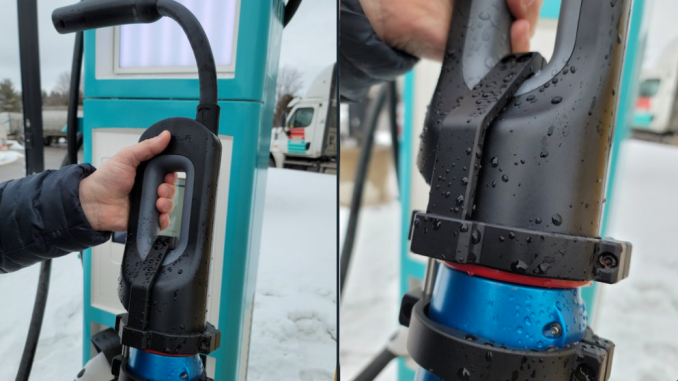 ONroute announced last year plans to install 69 Ivy fast chargers at their rest stops across Ontario.
The EV chargers will feature both CCS and CHAdeMO connectors, but they also announced Tesla owners will be able to plug in.
To do so, Ivy confirmed with Drive Tesla that they will be using built-in CHAdeMO adapters, which is as far as we know is a world first. (Update – we forgot about Revel in New York, but those appear to have a special adapter h/t: @CarsonGallo)
The first 6 stations are almost complete, set to open on February 18, and thanks to one of our readers we have our first look at the CHAdeMO adapter setup at the Cambridge station.
As we can see in the photos below from @xerophinity, one of the two connectors will be a dedicated Tesla charger, with the CHAdeMO adapter secured at all times with what looks to be a sturdy lock to prevent tampering or theft.
Unfortunately the CHAdeMO adapter limits charging speeds to a maximum of 50kW, making it slower than the slowest 72kW Urban Superchargers from Tesla.
The good news is that Tesla is set to release a (much smaller) CCS adapter in North America very soon. Ivy tells us they will investigate adding the new adapters once they are available.
More tests show Tesla CCS adapter can reach charging speeds above 100kW