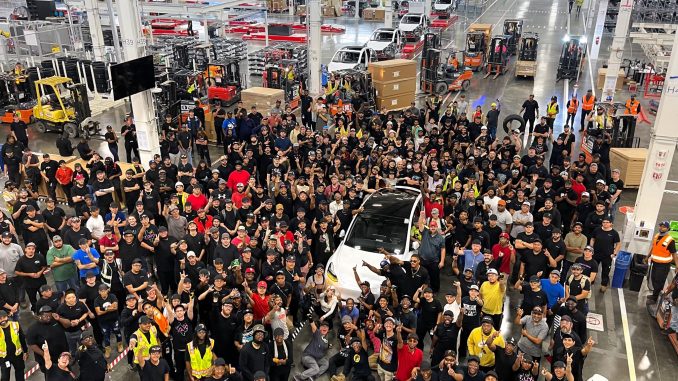 Tesla's newest factory, Giga Texas, has hit a big milestone with the automaker announcing this morning the 10,000th Model Y has officially rolled off the production line since the factory opened in April.
As is customary with their production milestones, Tesla shared an image of the 10,000th Model Y surrounded by the employees that helped make it happen.
10,000 Model Ys built at Giga Texas to date pic.twitter.com/4cOlnpCRa0

— Tesla (@Tesla) September 17, 2022
Giga Texas officially opened on April 7 when Tesla hosted thousands of employees and fans at the Cyber Rodeo. Initial production was of the new Model Y variant with the structural battery pack and 4680 cells.
The first deliveries were reserved for employees, before Tesla later started offering the new variant to existing Model Y reservation holders near Giga Texas.
Due to a limited supply of 4680 cells, Tesla soon switched to producing Model Ys with the typical 2170 cells and shipping them from Austin to Delivery Centers across the east coast of the United States.
It took the factory about 4 months, until August 20, to ramp production and hit 1,000 Model Ys produced in one week.
Almost one month to the day later, Tesla has now hit 10,000 Model Ys produced to date, indicating an average of about 61 new cars built every day at the factory since opening. Obviously this number was lower at the beginning of production and higher now, with about 150-200 being produced every day in recent weeks.
So far we have yet to see any Model Ys produced at Giga Texas land in Canada. When that does happen it will be somewhere in the eastern part of the country, the area where Elon Musk has previously said the factory will produce cars for, with Fremont providing cars for the west coast.
The Fremont factory has also recently celebrated a big production milestone with the 2 millionth vehicle, a red Model 3 Performance rolling off their production line in July.