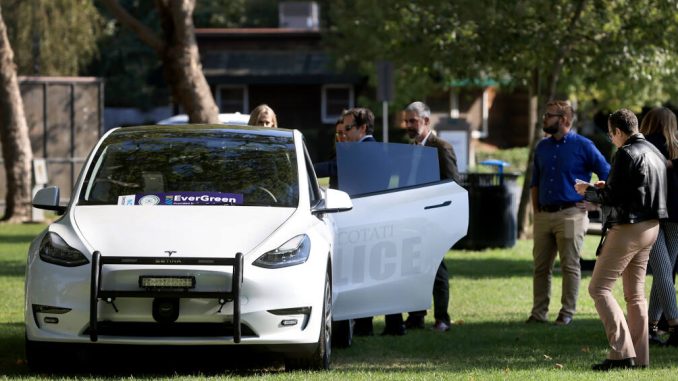 The Cotati Police Department in California unveiled its first electric patrol car earlier today.
The Tesla Model Y was presented to the police department in a ceremony at La Plaza Park.
Cotati Mayor, Mark Landman, had this to say about the new investment:
This vehicle will be more cost-effective, saving our citizens money while at the same time helping reduce (greenhouse gas) emissions — something we all recognize we need to do. Once Sonoma County makes this switch, we can make the same friendly challenge to Mendocino and Marin and, once that happens, we can all together watch this take off like a rocket throughout our state.

Credit: Press Democrat
The police force plans to add additional electric vehicles to the fleet as gas vehicles phase out of service.
The first of these replacements will come later this year, with two additional electric vehicles.
However, Cotati Police did not confirm the brand or make.
Cotati is the second police department in the Bay Area to purchase a Model Y for police duty.
Fremont Police purchased a Tesla Model Y in September 2021 to join its fleet.
The Cotati Tesla Model Y will be a part of the normal fleet and is already active on the streets.
It has been a big week for Tesla police vehicles.
As Drive Tesla reported yesterday, the first K-9 Telsa Model Y went into service with the Bargersville Police Department in Indiana.