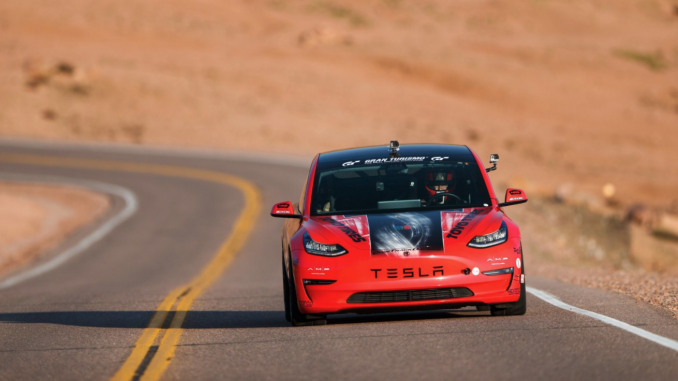 The 2020 Pikes Peak International Hill Climb started out with three Tesla Model 3's among the participants, with high hopes for the Unplugged Performance Model 3 driven by Randy Pobst to take the top spot.
The other two Model 3's, driven by Blake Fuller and Josh Allen were also aiming for quick times in completing the ascent to the top of the mountain. It wasn't meant to be for Allen though, who crashed his Model 3 on the first day of practice, sustaining injuries to his back that will require him wearing a brace for at least 3 months.
Here's a look at the XPO #Tesla after the crash. Driver Joshua Allen was driven away by Remo in a model S (better than an ambulance). Let's hope he's ok. 🤞 🙏 pic.twitter.com/jjaTBpgidd

— Sofiaan Fraval (@Sofiaan) August 25, 2020
Then on the second day of practice Pobst took a corner a little too hot, sending his car crashing into a safety wall and into the side of the mountain. Fortunately Pobst was uninjured in the crash, but the car did not fare as well, with significant damage, seemingly
ending his hopes of a top finish
.
But thanks to a heroic effort, and a brand-new donor car from Tesla, the team was able to rebuild the Model 3 and have it back in the race on Sunday.
After the dust settled, Blake Fuller came away with the victory, setting the fastest time in the Exhibition Class at 11:02.802. Just 2 seconds behind was Pobst, clocking in at 11:04.131. To give you an idea of how fast the Tesla's were able to complete the climb, they were more than 20 seconds ahead of third place, a 1949 Ford F1 driven by Scott Birdsall.

What makes the first place result for Fuller even more astounding is he drove his Model 3 nearly 3,000 miles to the event, unlike most competitors who trailer their vehicles to the mountain.
You can check out the full results at the Pikes Peak website.
Blake Fuller set a 11:02 up the hill – 2 seconds quicker than Randy Pobst in the heavily modified #Tesla #Model3 – Congrats, Blake!! #PPIHC #PPIHC2020 #PikesPeakLive pic.twitter.com/53rDlYo508

— Out of Spec Motoring (@Out_of_Spec) August 30, 2020
Featured image via
@NYKChannel