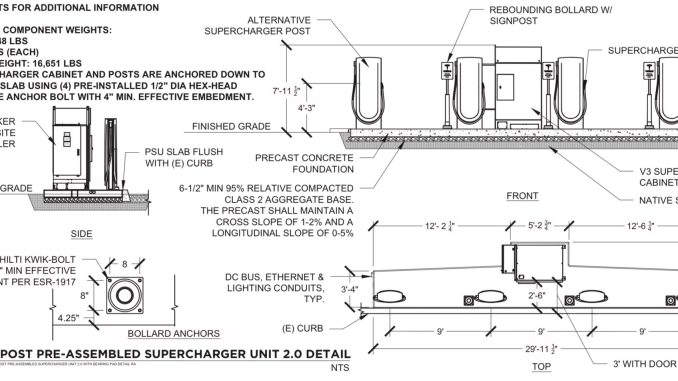 Even though Tesla has yet to officially announce their next generation V4 Superchargers, several details have been revealed through construction plans for upcoming Supercharger stations.
The latest discovery is that Tesla plans to use their prefabricated installation method for at least some of their V4 Superchargers.
By using prefabricated Superchargers Tesla is able to install an entire station in as little as 8 days, but it is only as quick as the local utility company, as Nova Scotians discovered with the New Minas Supercharger.
The discovery was made by none other than Supercharger aficionado Marco (@MarcoRPTesla), who uncovered a site plan for an Supercharger set to open next year. Marco didn't reveal the location, only telling us it wasn't in California.
According to the plans, these particular V4 Superchargers will be installed four to a base, just like the current V3 prefabricated Superchargers.
Interestingly, the plans also show the installation will include a 'V3 Supercharger cabinet." According to Tesla, the V3 Supercharger cabinet features 1MW of power, indicating whatever power the V4 Superchargers will be capable of outputting, it can be handled by Tesla's existing infrastructure.
Previous hints from Tesla indicate they will be about 350kW, compared to the 250kW the V3 Superchargers are capable of.
This means that Tesla will be able to retrofit V3 Superchargers with newer V4 pedestals at their existing locations as the rollout of the new technology progresses.
Other details of the V4 Superchargers that have been uncovered so far are that it will be taller, thinner, and have a slightly smaller footprint than the current generation.
We were also able to obtain a photo of the new design, and as the site plans show, it will look very much like the Megacharger for the Semi.