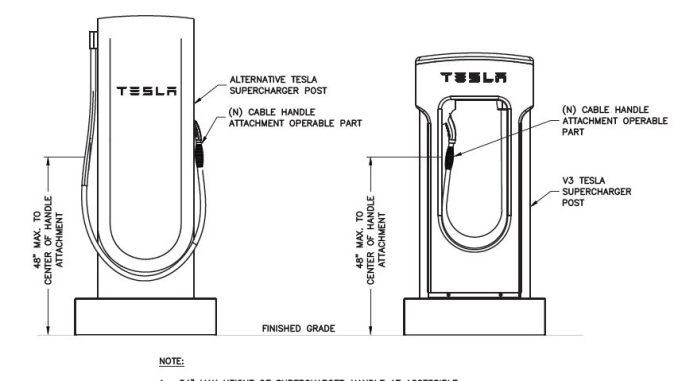 Tesla has revealed the design of their next generation V4 Supercharger in architectural drawings for a new station in Danvers, Massachusetts.
Last week we reported on the design of the V4 Supercharger, revealing that it would look almost exactly like the Megachargers for the Tesla Semi that we have already seen installed in two locations.
Today Twitter user @JH_bedford discovered plans for the Danvers Supercharger station which include drawings of a V4 pedestal, confirming the design and other details included in our report.
As you can see from the plans, the V4 Supercharger cabinet will be taller, slimmer, and as a result have a smaller footprint compared to the V3 Supercharger. Since there is no interior opening the charging cable starts from the outside at the top of the cabinet, translating into a longer cable. This should prove helpful if Tesla includes any V4 stations when they open up their Supercharger network to other EV drivers, although they will have to come up with a different design for their Magic Dock.
When compared to the Megacharger, there are almost no visual differences. As we pointed out last week, the biggest difference is the overall size, as well as the location of where the cable handle docks.
According to the plans the V4 Supercharger stands 6 feet 4 ¼ inches tall, compared to the V3 at 5 feet 6 ¼ inches tall. The Megacharger is even taller at just under 7ft.
With the Megacharger the handle docks quite low, whereas with the V4 Supercharger it docks near the middle of the cabinet. The plans explain that the center of the V4 handle sits at most 48″ off the ground.
Unfortunately the plans do not include any details about what is inside the V4 cabinet and what charging speeds they will provide. Tesla is expected to unlock additional speed in the V3 Superchargers later this year, bumping them from 250kW to 324kW. Based on that we expect the V4 Superchargers to provide at least 350kW, matching hints given by former Tesla executive Jerome Guillen during the company's Q3 2020 earnings call.
While the plans include design details about the V4 Superchargers, it is not clear if this particular site in Massachusets will actually include them. Previous rumours suggest the first V4 Superchargers will be installed in Austin, which would make sense as Tesla would want the first installation to be close to Giga Texas and their new headquarters.
You can check out the full plans below.
https://twitter.com/JH_bedford/status/1549478465203732480