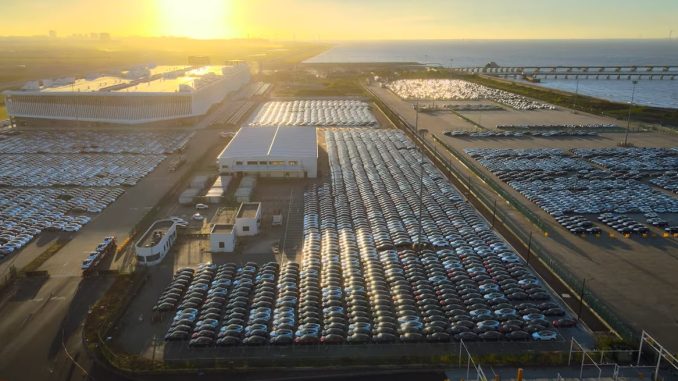 After factory shutdowns due to COVID-19 and for production line upgrades, Giga Shanghai is back and running at full steam. In August the automaker delivered 76,965 new Model 3 and Model Y cars, just off its all time record of 78,906 sales set in June.
Data from the China Passenger Car Association (CPCA) shows the automaker sold 34,502 vehicles domestically in China. The Model Y made up the majority of that figure, registering 62,169 sales, with the Model 3 accounting for 14,796 sales.
This represents a large 173% increase compared to July, a month impacted by shutdowns due to production line upgrades, and a 74% increase compared to August 2021.
While Tesla came within inches of setting a new monthly sales record, they were able to set a new export record. According to the CPCA 42,463 vehicles were exported to other markets, setting a new benchmark for Tesla's primary vehicle export hub.
The previous record was set in October 2021 when Tesla exported 40,666 vehicles out of China.
This new export record isn't a huge surprise, and something we predicted would happen based on the large batches of exports that were seen at Chinese ports last month.
This strong performance in August bodes well for the remainder of the year as Giga Shanghai can now produce up to 3,500 Model 3 and Model Y cars per day. That increased production capacity has led to delivery wait times for the entry-level Model Y Rear-Wheel Drive (RWD) variant being slashed to as little as one week.
Tesla MIC Aug sales
Wholesale: 76,965
Model Y: 62,169
Model 3: 14,976
Retail: 34,502
Export: 42,463
42,463
(CPCA) pic.twitter.com/O1tBGL8oV3

— Moneyball (@DKurac) September 8, 2022