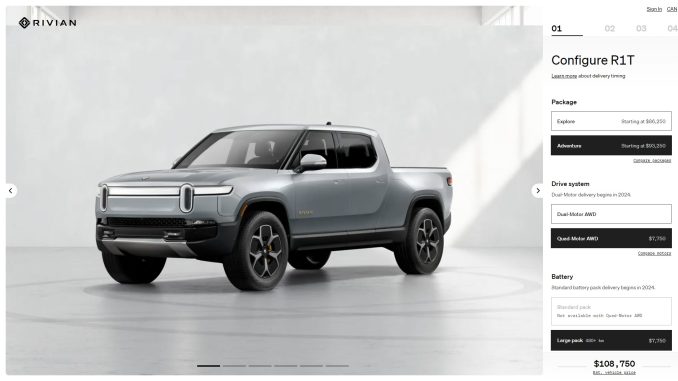 Rivian has made a shocking announcement this afternoon, introducing a new Dual-Motor All-Wheel Drive (AWD) variant for the R1T and R1S electric vehicles (EVs).
The shocking part is that at the same time, they have raised prices on both vehicles by nearly 20%, a move that also impact existing reservation holders.
Not only have they increased the price of their vehicles, some options and accessories have also seen a big jump in price.
Rivian R1T and R1S Dual Motor & Standard Battery Pack
The price increased was masked under the announcement of a new Dual-Motor AWD variant, which is set to arrive in 2024.
In Canada the base R1T will start at $86,250, but that is with the new Standard Battery Pack, which provides only 415+ km of range, down from the previous 515+ km or 640+ km on the Large and Max packs.
The base R1S now starts at $92,750 in Canada, with the same stats at the R1T above.
Rivian R1T and R1S Price Changes
Those prices are what the R1S and R1T used to be listed for, but with a Quad-Motor powertrain and Large pack.
That translates into bad news for existing reservation holders, who have seen the price of their undelivered EV go up by nearly 20%.
If you ordered the previous base model R1T (Explore, Quad-Motor, Large pack), you will now have to pay $101,750, a massive $15,500 increase.
The numbers are just as bad if you were in line for a R1S in Canada. You will also have to fork out $15,500 more, as the former base R1S now costs $108,250.
As a consolation prize, Rivian is allowing existing reservation holders to downgrade their orders to the new Dual-Motor and Standard pack configuration, but they still have to pay the same price as before.
That means if you haven't received your Rivian yet, as is the case for every Canadian reservation holder, you will either have to pay the same amount for a lesser car (and now wait until at least 2024 to receive it), or pay $15,500 more for what you ordered.
Other Changes
There were at least two other changes that we have noticed. The first is that the Glacier White paint option, which used to be "free", now costs $2,300.
Additionally, the R1S is now only available in a 7-seat configuration.
Why did Rivian increase prices?
In an email sent to reservation holders obtained by Drive Tesla, Rivian unsurprisingly blames the price increases on "inflationary pressure on the cost of supplier components and raw materials across the world."
The automaker also notes in the email that upgrades and accessories have also increased in price, meaning for many reservation holders the price change will be even more than what is listed above.
For example, the Rivian Wall Charger has increased from $670 to $960 in Canada. The Camp Kitchen, which used to be a $6,750 add on, now costs $9,300.
Naturally, reservation holders are not pleased with the news, and criticism on social media has been swift. Rivian's Twitter account has been flooded with complaints from customers who have seen their cars increase in price by $20,000 or more.
@Rivian, not cool increasing the prices this much on existing pre-order holders. I understand updating pricing moving forward, but an additional 14K on the original order is not the adventure I was looking to go on with you guys!

— rajiv33 (@rajiv33) March 1, 2022
Also just introduced a 20% price increase!! So fun to see my 39 month old estimate going from 74K to 91K and that's not including the 'new' tonneau cover upgrade. Bet that's another 5K! You guys rock.

— Expat (@MickyBigWords) March 1, 2022
Not cool on @Rivian on the more than $10k price increase for those of us with long-time pre-orders. I think I have to be out of the adventure now. Cannot justify an almost $100k truck with current state of deliveries and fit-and-finish.

— Tony McDowell (@realtonymcd) March 1, 2022
Do you have a reservation for a Rivian R1T or R1S? How much has your price increased by? Will you keep your reservation? Let us know in the comments below.