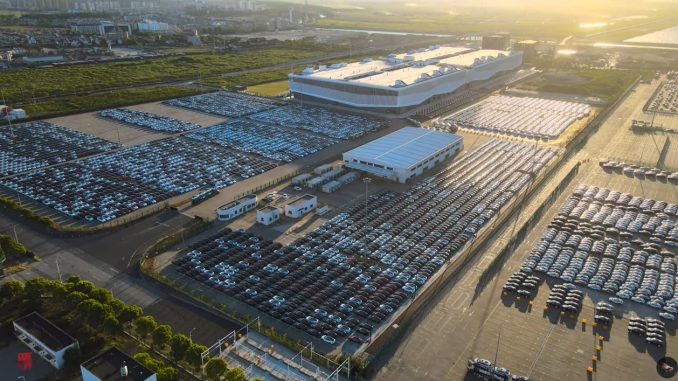 After a slower than anticipated second quarter due to COVID shutdowns and subsequently operating with a limited workforce, Giga Shanghai has been pumping out cars at a record pace.
Many of those cars are being exported out of the country to other markets. Since reopening Giga Shanghai in April, we have seen several large batches of Tesla vehicles at ports waiting to be loaded onto cargo ships.
One week ago on August 12 we saw over 8,800 cars sitting at port waiting to exported.
One week later and all those cars have been shipped and replaced with an even larger batch. On Friday drone operator Wu Wa captured an even larger batch of Model 3 and Model Y.
According to Tesla enthusiast Sawyer Merritt, who took the time to attempt to count them, over 10,000 Teslas are currently parked at Luchao Port Shanghai Nangang Terminal.
The drone video shows rows upon rows of Teslas packing several areas of the port, with more still on transport trucks waiting to be unloaded and added to the collection.
This large volume of exports is a little unusual at this point in the quarter. As Elon Musk has explained in the past, Giga Shanghai's prioritizes production in the first month of a quarter for exports, then shifts to focusing on domestic production and deliveries for the second and third months of the quarter.
That is why we often see a drop in Tesla China's sales figures from one month to the next, just as we saw last month. In June, the final month of Q2, Tesla sold a record 78,906 cars. That was followed up by a drop of more than 50% in July, the first month of Q3.
You can watch the full drone flyover below.