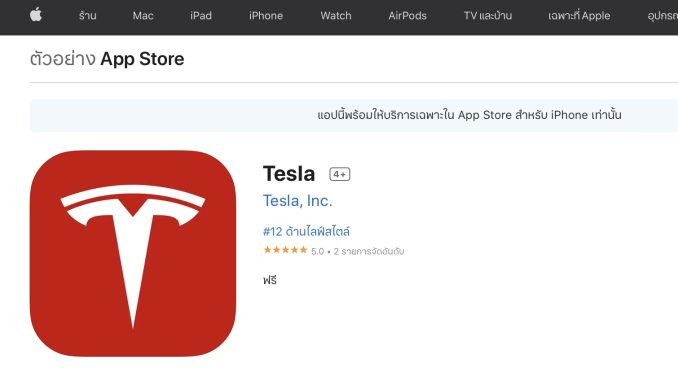 In another sign that Tesla is preparing to officially launch sales in Thailand very soon, the automaker has added their official app to the Thai iOS App Store.
Currently Tesla only allows their mobile app to be downloaded in countries where it officially sells its vehicles. Existing Tesla owners in Thailand who have imported their vehicles into the country have to perform a bit of a workaround by setting up an Apple account from a supported country.
Now they can download the app directly from the Thai version of the iOS App Store. As noted by Paul Tan, this puts Thailand as the second southeast Asian country after Singapore to have an official Tesla presence.
Earlier this year official documents from the Kingdom's Ministry of Commerce revealed Tesla had registered to sell vehicles, solar, and energy storage systems in Thailand.
Even though Tesla is not officially set up in Thailand yet, they are still a popular choice among EV enthusiasts in the country. Last year the Model 3 was the second best-selling EV in Thailand, a remarkable feat considering import taxes and duties push the price of an entry-level Model 3 to the same level as a Model Y  Performance in North America.
It is not just popular among residents either, as the Thai police force also has a fleet of seven Model 3 Performance sedans.
With an official presence in the country, Tesla sales in Thailand will grow even further.