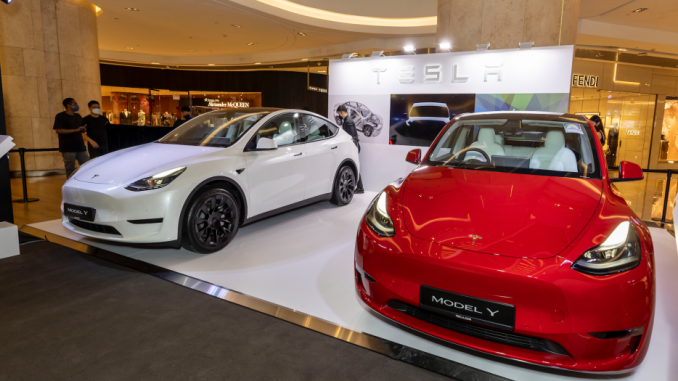 Tesla opened up orders for the Model Y in Singapore last month and with the first deliveries expected to begin in August, the automaker has brought three Model Ys to the country allowing customers to get their first up-close look at the electric SUV
The Pearl White Multi-Coat, Red Multi-Coat, and Solid Black Model Ys can be found at a pop-up shop in the ION Orchard shopping mall. The cars will be on display from July 13 until July 24.
Only two Model Y variants will be available in Singapore – the Rear-Wheel Drive (RWD, formerly Standard Range) and Performance, both of which will be imported from Giga Shanghai.
In Singapore the RWD can be purchased for $91,990 (~$84,500 CAD) and the Performance for $110,990 (~$102,000 CAD).
However, with Certificate of Entitlement (COE) fees now around $110,000 (~$101,000 CAD), the final price of the Model Y will be much higher. The COE is required to register a vehicle and entitles the owner to drive the car for a period of 10 years. The COE was introduced to help control traffic and emissions.
Tesla currently has just one retail location in Singapore at the upscale Millenia Walk shopping mall. The store opened in January, and was publicized by the then country manager Christopher Bousigues.
Unfortunately Bousigues was laid off last month as part of the automaker's plans to reduce their overall headcount by about 3.5% by eliminating as many as 10% of its salaried workers but at the same time increasing the number of hourly workers.