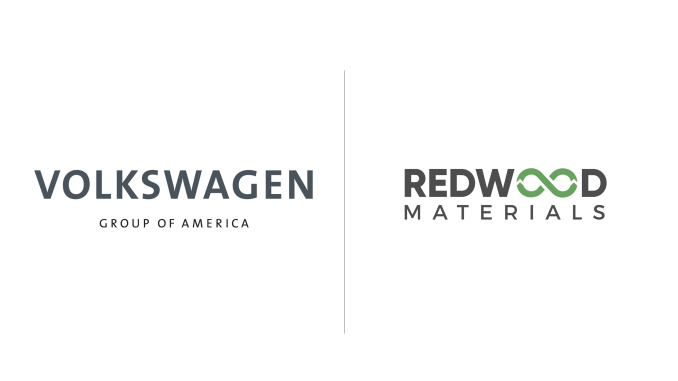 Volkswagen Group of America has picked Redwood Materials to recycle batteries from their VW and Audi electric vehicles (EVs). The deal will see Redwood works with over 1,000 VW and Audi dealers to recover, safely package, transport, and recycle end-of-life EV battery packs at their facilities in Northern Nevada.
Redwood will then be able to recover more than 95% of the EV battery metals, including nickel, cobalt, lithium, and copper. Those materials will be used to remanufacture anode and cathode components to be supplied back to US battery cell manufacturers.
In a press release announcing the deal, VW says the two company's collaboration "represents a crucial step in growing North America's domestic EV industry" and follows a holistic approach to the battery lifecycle.
VW plans to introduce as many as 25 new battery electric vehicles (BEVs) to the North American market by the end of the decade.
Redwood Materials, started by Tesla co-founder JB Straubel, recycles 6 GWh of lithium-ion batteries annually, representing the majority of batteries recycled in North America. The company has already signed deal with other automakers like Toyota, Nissan, and Ford.
They also have a deal to provide Panasonic with recycled battery materials to be used at Tesla's Giga Nevada.
Redwood is also more than just a battery recycling company. They are also building a facility capable of producing 100 gigawatt hours (GWh) of batteries per year by the end of 2025, enough to power 1.3 million EV per year.
Earlier this year Redwood announced it was expanding outside of North America and working to establish partnerships with automakers and battery cell manufacturers in the European Union (EU).