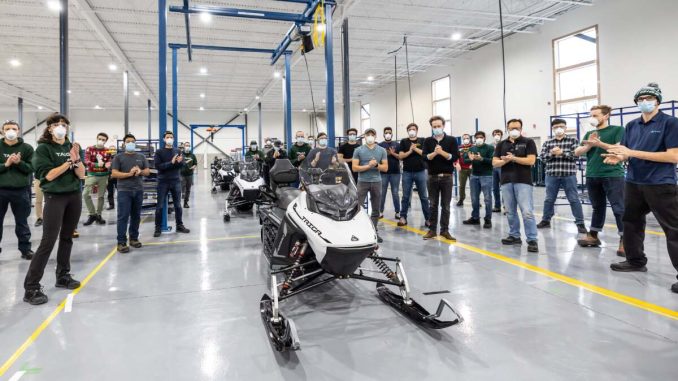 The first consumer-ready Taiga electric snowmobile rolled off the company Quebec-based production line. Taiga announced the TS2 back in 2018, and after a design tweak and expanding the range last year; the company started production late this year.
The company expects deliveries to pre-order customers to start in early 2022. Taiga is awaiting final approvals from the Provincial and Federal governments before beginning deliveries. The model lineup includes the Ekko Mountain, the Atlas crossover and the Nomad touring/utility.
The Ekko is being offered in a standard and performance version. The standard version goes 0 to 100 km/h in 4.1 seconds. The 120-hp electric drivetrain has an estimated per-charge range of 98 km.
The performance version adds a double-wishbone suspension and multilink rear suspension. In addition, the performance model has adaptive regen braking, Hayes disk braking and an HD display. The performance version also pumps out 180-hp with a range of 131 km.
Secondly, the Atlas combines the performance and range. The standard Atlas comes with a 120-HP drivetrain covering 0-100 km/h in 3.7 seconds.
The performance Atlas comes with a 180-hp drivetrain that can cover 0-100 km/h in 2.9 seconds. The model has an estimated range of 140 km.
Last but not least, the workhorse Nomad also features a standard and performance model.
The standard model comes with a 90-hp drivetrain and a 100 km range. However, the towing capacity is up to 350 kg.
The performance model features a 120-hp drivetrain with a range of up to 124 km. More importantly, the Nomad can top up to 510 kg.
Taiga notes that the TS2 provides instant torque, zero throttle lag, a thermal management system and supports DC fast-charging. The setup also allows custom adjustments of drive parameters, and a companion mobile app provides route planning and tracking.