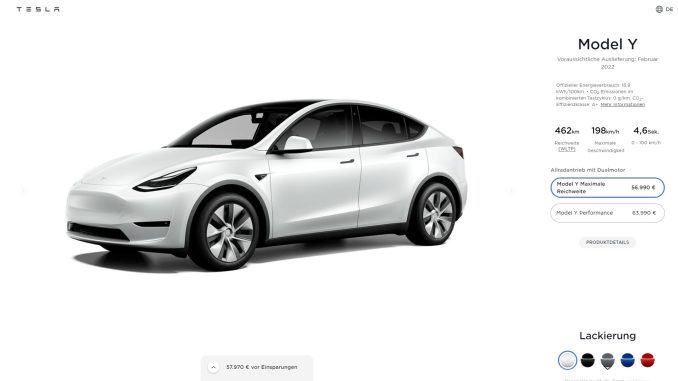 Tesla often makes changes to their website, but hides them in the source code until they are ready to be revealed.
One such instance of that has been discovered today by Tesla enthusiast and Computer Science student @tesla_adri, who uncovered two new Model Y variants in the source code of the Design Studio in Germany.
Until recently, the section of code where it provides estimated delivery dates (EDDs) referred to only one Model Y variant – MTY07.
This is the Long Range All-Wheel Drive Model Y, the only variant currently available in the country.
Today, two new variants have been added – MTY09, and MTY12.
According to the code, MTY12 refers to the Model Y Performance variant, and it has an EDD of May 2022.
There is no information if this car is made at Giga Shanghai or Giga Berlin, which will be starting production with the Performance variant.
However, deliveries are expected to begin sooner than May. Currently the Design Studio is showing "early 2022."
MTY09 has no additional information, but @tesla_adri speculates this could be either the Model Y Standard Range (SR) from China, or a version of the Long Range with a newer battery pack.
Other changes to the website in Germany last year hint at the SR variant being added soon.
NEWS:
Source code change in the Model Y order page in europe. two variants added to the EDD list:
"MTY09" –> EDD: Feb 22, no additional information about which trim it is.

"MTY12" –> EDD: May 22, confirmed MYP. No info if shanghai or berlin made pic.twitter.com/bbePcVPPLt

— Tesla_Adri (@tesla_adri) January 13, 2022