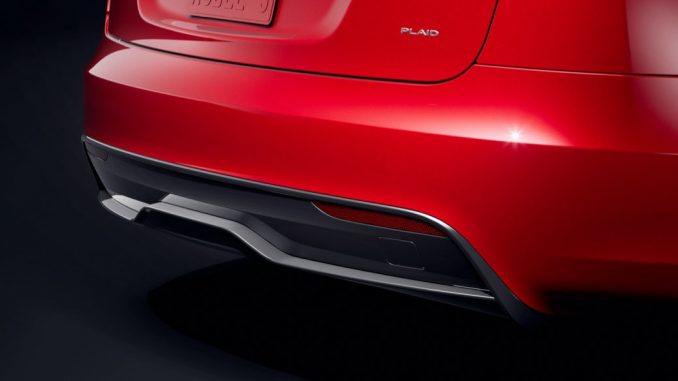 Tesla has set a new official record for the fastest quarter-mile time of any production car in their new Model S Plaid.
The time was set on May 11, 2021 at the Autoclub Famoso Raceway in Bakersfield, about four hours south of Tesla's Fremont factory in California. According to a source who was at the event, the stock Model S Plaid set an official time of 9.23 seconds with a trap speed of 152.16mph (244.88km/h).
That handily beats the previous record of 9.4 seconds held by the Bugatti Chiron Sport. At a base price of $3,260,000 USD ($3,946,000 CAD), the supercar is considerably more expensive than the Model S Plaid which starts at $119,990 USD ($159,900 CAD).
The time set by the four door electric sedan is also nearly a full half-second quicker than the second fastest car on the list, the Porsche 918 Spyder.

The record lines up almost exactly with Tesla's targeted time and speed that has been on the website since the variant was announced earlier this year.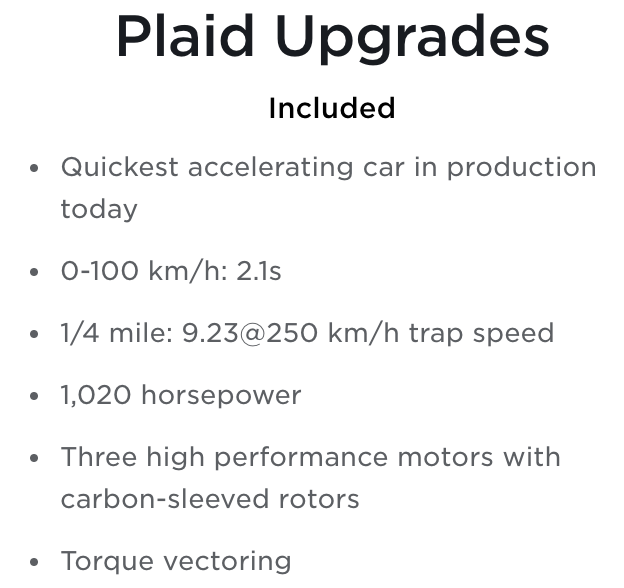 The Plaid Model S quarter-mile time is also quicker than the time Lucid set in their Air tri-motor prototype last year. There is one important difference – Lucid's time of 9.245 seconds was achieved in a completely stripped down version of the Air, whereas the Model S Plaid had a full interior.
To protect the identity of our source, we are unable to share any footage of the run, but Drive Tesla has seen evidence of it.
There is good news though – we should all be seeing it soon. Our source also told us that it wasn't just Tesla employees at the track, but late-night comedian and car enthusiast Jay Leno was also in attendance to film the testing session for his show, Jay Leno's Garage.
Not only was Leno watching, he also got behind the wheel. According to our source he was able to lay down a time of 9.50 seconds, with the added weight of two passengers in the car during his run.
Even though his impressive car collection, worth an estimated $150M USD ($191M CAD), consists mainly of gas powered vehicles, Leno has become a big fan of Tesla and electric vehicles (EVs). He has interviewed Elon Musk on multiple occasions, most recently when he had the opportunity to drive the Cybertruck.
It is still unknown when the first deliveries of the Model S Plaid will begin. Production issues have delayed even the Long Range variant which is expected to ship first. This testing hopefully means it won't be too long until we see the Model S Plaid in the hands of some lucky new owners.