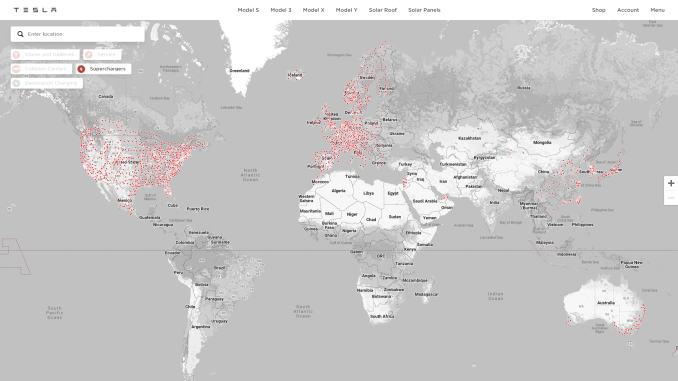 One of Tesla's biggest and undervalued assets is its Supercharger network, and today the company announced the network now includes over 40,000 stalls around the world.
The milestone was reached just over 10 years after Tesla installed their first Superchargers in the US, building just a handful of stalls on the east and west coasts in 2012.
It also cements Tesla's status of having the largest DC fast charging network in the world.
Tesla has not been quiet about their ambitions to grow the size of the Supercharger network. During the company's Q3 2021 earnings call SVP of Powertrain and Energy Engineering Drew Baglino said they intend to triple the size of the network over the next two years.
At the time the network stood at 29,281 stalls across 3,254 stations, putting their target at around 90,000 stalls by 2024.
Just over one year into that aggressive timeline and the network has already grown about 35% to 40,000 stalls, according to an announcement by the official Tesla Charging Twitter account on Tuesday.
40k Superchargers around the world — and counting pic.twitter.com/w6tShTkwPA

— Tesla Charging (@TeslaCharging) November 22, 2022
Tesla didn't say how many stations make up the 40,000 stalls, but in their most recently quarterly update last month they said they had 4,283 stations with 38,883 stalls.
Some of those stalls across Europe are now available to non-Tesla owners as the automaker has expanded their non-Tesla Supercharger Pilot program to 15 countries across the region.
Tesla plans to do the same in the US, although they haven't officially announced plans for when that will happen. It will also be a little more complicated in the US compared to Europe, since Tesla uses the North American Charging Standard (NACS) and not CCS.
Here's how Tesla plans to allow other EVs to plug in at North American Superchargers – Magic Dock