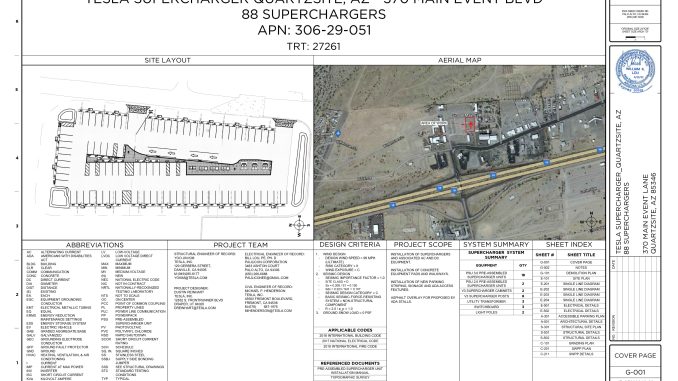 Tesla is continuing to expand their Supercharger network at a rapid pace, and one of the largest Supercharger stations the company is planning to build won't be in its biggest market of California.
According to new plans uncovered by Supercharger sleuth Marco (@MarcoRPTesla), Tesla will soon begin construction of a massive 88 stall Supercharger in the small town of Quartzsite, Arizona.
There are larger Supercharger stations in California, but those have expanded to their current size through additional phases of construction. Since all 88 stalls in Quartzsite will be built at the same time, this will be Tesla's largest single build ever in the US.
The new Supercharger will be located at 370 Main Event Lane, just off Interstate 10 about half way between Los Angeles and Phoenix.
Construction should be swift as the plans reveal the station will be built using 20 prefabricated Supercharger units, each of which contain 4 individual stalls, making up the majority of the 88 stalls.
The remaining 8 stalls will consist of two pull-through stalls for Tesla vehicles towing a trailer, and an additional 6 individual stalls.
Along with the 88 stalls, there will also be four solar canopies to take advantage of the Arizona sun.
Amazingly, this won't be the only Supercharger in Quartzsite, as Tesla already has a 36 stall station, comprised of both V2 and V3 stalls, just across the road from the proposed location at 1451 West Main Street.
This new Quartzsite Supercharger will also easily make it the largest station outside of California. That title was previously held by the Supercharger in Sutherlin, Oregon, which is currently under construction and will feature 51 stalls upon completion.
As for the largest Supercharger in the US, that title currently belongs to the Harris Ranch Supercharger, which recently expanded to 98 stalls.
Tesla Obtains Funding to Build Four Massive Superchargers, Including World's Largest