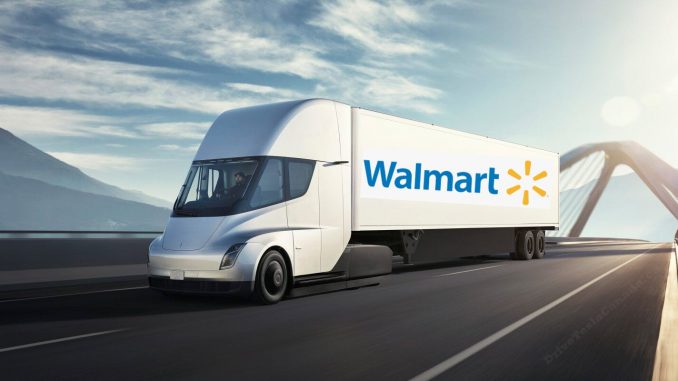 Tesla received a significant boost to its order sheet this morning as Walmart Canada announced it is more than tripling its order of electric semi trucks.
Earlier this month Walmart announced it had set a target to reach zero emissions by 2040, part of a larger $3.5 billion investment over the next five years to to grow its business even more.
A major way for it to reduce its greenhouse gas emissions is through its supply chain. Walmart hopes to convert 20% of its fleet of semi truck to electric power by the end of 2022, before converting 100% to alternative power by 2028.
"Tripling our reservation of Tesla Semi trucks is part of our ongoing effort to innovate the business and prioritize sustainability. By converting 20 per cent of our fleet to electric vehicles by the end of 2022 and committing to alternative power for all fleet vehicles by 2028, we are putting safety, innovation and sustainability at the forefront of our logistics network," said Senior Vice-president, Logistics and Supply Chain, Walmart Canada, John Bayliss."
The targeted 800km (497 mile) range would be enough for the majority of Walmart Canada's transportation routes, which consists mainly of single day round trips between its distribution facilities and stores.
It is not just the zero emissions that attracts Walmart to the Tesla Semi. The company is also ordering them because of the advanced safety features that will enhance the driving experience for their drivers.
"We are tremendously excited to equip our drivers with this next generation equipment. The safety and smart elements in the design are at the heart of our smart transportation ambition which will use technology and data to lower our operating costs and improve safety for associates," Francis Lalonde, Vice President, Transportation, Walmart Canada said in a statement.
Since first being unveiled in 2017, the Tesla Semi has faced several delays. In its Q1 earnings report, the company announced it was pushing production back until 2021. That timeline was accelerated just a few months later, after a leaked email from Elon Musk showed he is ready to bring the Tesla Semi truck to "volume production".
The electric hauler was recently on display at the company's Battery Day event last week in California. The first units will be produced out of the Fremont facility, before permanently moving to Giga Texas once it completes construction next year.