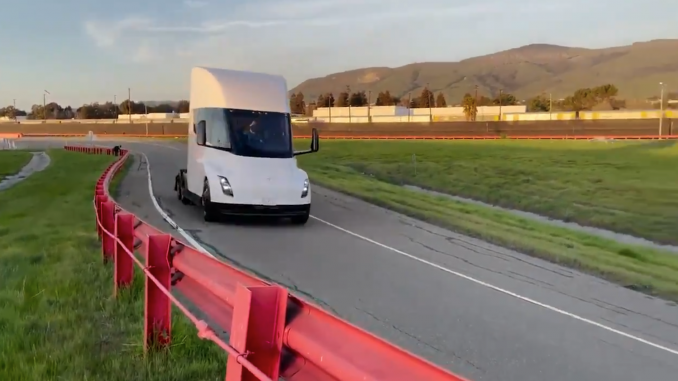 Earlier this week a Tesla fan flying his drone over the Fremont factory spotted a white Semi truck following a Model Y making it look as if the automaker was filming some promotional videos for its upcoming release.
Tesla has now shared a video from that session on social media, and it looks and sounds amazing.
In the short 15-second clip the latest build of the Semi passes the camera as it takes the banked corner at speed.
— Drive Tesla 🇨🇦 #FSDBetaCanada (@DriveTeslaca) March 14, 2021
Tesla has delayed production of the Semi truck several times since it was first unveiled in 2017. Those delays have been the result of battery cell constraints as the automaker focused on ramping up production of its consumer vehicles.
Also Read: Another new Tesla Semi spotted on California highway
Recent rumours have suggested the Semi will begin production in just a few months. Given the numerous recent sightings and that Tesla is now testing and filming their Semi, it looks like those rumours might just be true.
When they do begin arriving, we will have a good chance of seeing them on Canadian roads. Walmart Canada has ordered 130 units, and Pride Group Enterprises has placed reservations for 150 units, with the option to purchase 500 in total.