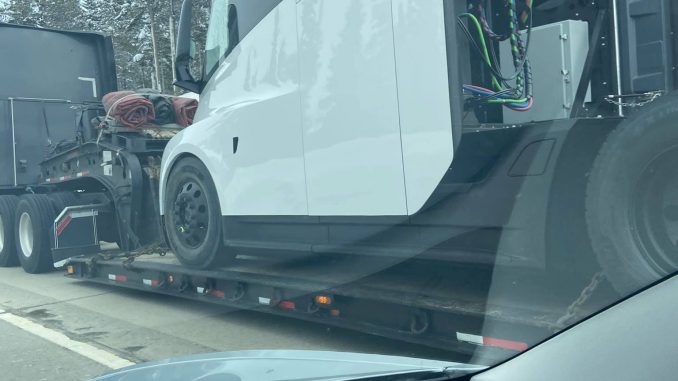 After going years without building a Tesla Semi prototype, the automaker has built at least three in recent months after another was spotted on a California highway this weekend.
Last month the first white Semi prototype was spotted heading towards Reno, Nevada. Keen-eyed fans were quick to spot a new design on the cab of the truck, which are believed to invalidate a number of Nikola Motors' claims in their patent infringement lawsuit against Tesla.
Days later a different Semi was spotted at a rest stop, before it ended up being seen all the way in Chicago.
Now another build of the newly designed Semi has been spotted heading east on Interstate 80 near Truckee, California. The photos, taken by Jerome Mends-Cole II and shared to Twitter by Tesla Owners NorCal-Reno, give us a up-close look at some details showing it is a different truck than previously seen by The Kilowatts.
This version of the Semi has Michelin tires, whereas the previous one seen had Bridgestone tires. It also does not feature the chrome wheels or silver box behind the cab of the truck.
We should be seeing a lot more of these electric Semi trucks on the road under their own power over the next two years.
Drive Tesla reported earlier today that production is targeted to begin by the middle of 2021, ramping up to 10,000 units by the end of 2022.