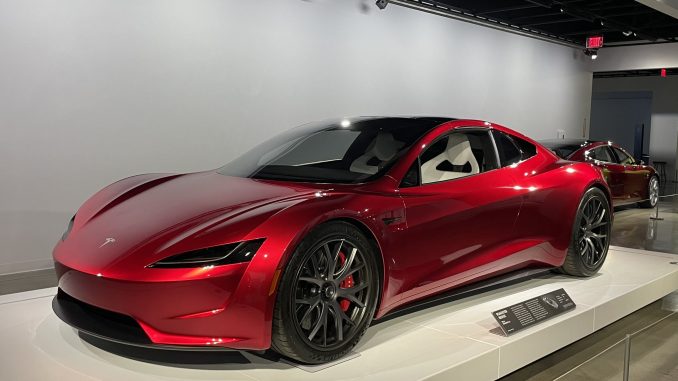 With production of the next generation Roadster delayed until 2023, Tesla has sold out of the limited edition Founders Series Roadster.
Tesla has also updated its website to remove the pricing for new reservations of the electric sports car.
Founders Series Roadster Sold Out
Until recently, interested buyers could visit Tesla's website and pick between the regular Roadster, or the limited edition Founders Series Roadster for a mere $250,000 USD (all of which was required within 10 days of placing the order).
In a recent update to the website, Tesla has removed the option to select the Founders Series, indicating they have sold out of their allotment of the limited edition vehicles.
Elon musk had originally said Tesla only plans to make 1,000 of the Founders Series, so this sell out indicates $250 million in revenue for the company.
Price Change For New Reservations
Not only has Tesla removed the Founders Series from its website, it has also removed pricing for the regular Roadster.
Before the update, opting for the Roadster would set you back $200,000. Unlike the Founders Series, "only" $45,000 USD was required within 10 days.
Now, the reservation comes with no specified final price. The initial deposit at the time of placing the reservation has stayed the same at $5,000 USD.
Tesla planned to release the Roadster back in 2020, but the vehicle faced significant challenges. First, it was battery restraints, and then the ramping up of Model 3 and Model Y production pushed the production date further into the future.
Most recently the production of the Roadster was pushed to 2023. However, Elon Musk said that date was dependent on no further supply chain shortages.
Editor's note: a previous version of this article stated existing reservation holders could no longer access their Roadsters. This appears to have been a glitch, and the reference has been removed.