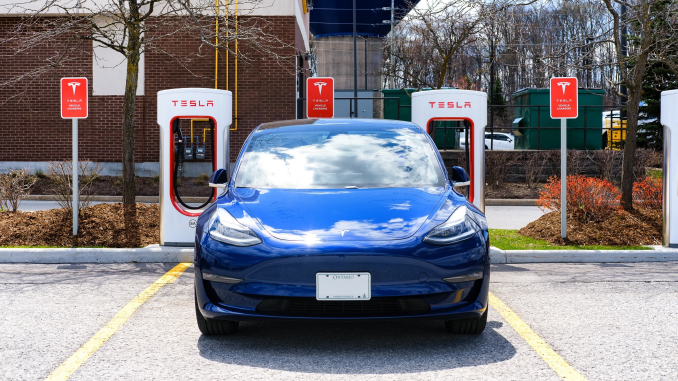 For the first time ever Tesla took part in the Canadian government's 2023 Budget consultation process. The automaker stressed the importance of electric vehicle (EV) charging infrastructure in accelerating the adoption of sustainable energy.
In a lengthy letter to Canada's Deputy Prime Minister and Minister of Finance Chrystia Freeland, the automaker notes that EV policy is best divided into three categories.
Demand policy: addresses perception and economic barriers (including through education, financial and non-financial incentives) that shift consumer behaviour and attitudes away from vehicles that utilize combustion and pollute and towards zero emission options.
Infrastructure policy: ensures consumers can charge at home and on the road, creates economic conditions for private charging operators to thrive and grow, and eliminates regulatory barriers impeding fair pricing.
Supply policy: attracts limited global EV supply to Canada, promotes innovation, long-range products (which are in greatest demand) and product cost reduction through increased supply and economies of scale. The environmental efficacy of these programs requires rules to be binding and not voluntary.
Tesla noted:
Canada has taken effective action on generating demand and investing in infrastructure but still needs to improve on its supply policy.
Audrey Depaul, Tesla Canada's Senior Advisor of Public Policy and Business Development said the government needs to focus on the following areas moving forward to improve.
Establish a refundable tax credit for companies that invest in Level-2 EV charging infrastructure
Tesla suggests a credit of $850/stall for workplaces that equip at least 5% of their parking stalls with charging posts
Take the lead on establishing DC Fast "charging hubs" in Canada's most expensive real estate markets
Tesla suggests the government establishes two to three hubs in each of Canada's highest-cost real estate markets with 30 to 50 charging stalls each, as DC charging is not otherwise economical to develop in those settings.
Tesla says the government could then allow charging providers to setup their charging stalls without a fee. Charging providers would pay for the installation, electricity usage, and maintenance for a period of 10 years, after which the government can continue using the land as a charging hub or sell the land (presumably for a profit) when the EV charging market becomes more mature.
Target EV infrastructure investments in existing multi-unit residential buildings
Tesla suggests the government tap into the $500 million Charging and Hydrogen Refueling Infrastructure Initiative subsidize up to 75% of the costs to install charging infrastructure where they will have the greatest impact, in multi-unit residential buildings.
Support investments in Medium and Heavy Duty Zero Emission Vehicle (MHDZEV) fast charging infrastructure
Tesla suggests the federal government provides support, similar to to the benefits of Natural Resources Canada's ZEVIP program, for MHDZEV charging stations.
Support electrical power capacity upgrades for heavy trucking at distribution and retail centres
Tesla suggest two levels of support – $200,000 for sites between 0 and 1.99MW, and larger grants for sites above 2.0MW.
This is the first time Tesla has engaged the government in such a form. However, Tesla is not a stranger in terms of government consultation.
In fact, the automaker has been one of the companies the federal government is courting to create a domestic EV ecosystem.
Tesla has also been lobbying the federal and Ontario governments to build an advanced manufacturing facility in Canada. Those lobbying efforts have come at the same time as Tesla CEO Elon Musk suggesting that Canada could be home to the automaker's next Gigafactory.
There have been hints that the facility could be based in Quebec, but according to the latest information received by Drive Tesla, those lobbying efforts have paid off and Tesla is close to signing a deal to set up a facility in a region north of Toronto, Ontario.
You can check out the full Tesla submission below. (via The Logic)
TeslaMotorsCanadaULC-e