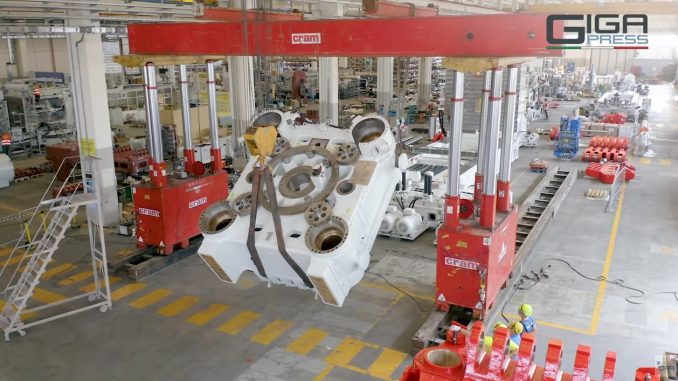 Tesla has taken another step towards the start of Cybertruck production with the arrival of the first parts to assemble their 9,000 ton Giga Press.
Over the summer IDRA Group, the maker of Tesla's Giga Press machines, showed off their all new 9,000 ton Giga Press in Italy. The massive casting machine is critical piece of the Cybertruck's production puzzle as it will be used to cast the electric truck's body at Giga Texas.
After showing off the Giga Press at an open house event IDRA disassembled the machine and in late October announced it was "packed and ready to go."
Although drone flyovers of Giga Texas have yet to capture any large IDRA pieces of machinery arriving at the factory, it looks like Tesla was able to sneak in several parts without anyone noticing.
In a flyover by drone pilot Joe Tegtmeyer this morning two large red pieces of equipment and several boxes stamped with IDRA were spotted inside the casting machine section of the factory.
The large red pieces are covered in plastic but they appear to be these parts of the machine that were seen over the summer.
Since this particular Giga Press is so massive it was sent to Texas in pieces so we should expect to see more arriving in the coming weeks. If all of the parts arrive in the next month or so we should expect Tesla to be able to assemble the entire Giga Press and if all goes well begin trial casting before the end of the first quarter, lining up well for Tesla to begin production in mid-2023, as per the latest schedule from Elon Musk.
The arrival of the Giga Press comes just a few days after a photo was leaked showing the Cybertruck's frame for the first time. Since there is no Giga Press yet this frame was produced at a different location, possibly in Michigan where Ecsar, the company that was on the plastic covering two Cybertruck bodies that were spotted arriving at Giga Texas back in October, is based.
Tesla has also been posting numerous jobs related to Cybertruck production on their Careers page, all indicating Tesla is on track for their mid-2023 production target.
Franz von Holzhausen talks Tesla Cybertruck at former school, ArtCenter College of Design [Video]