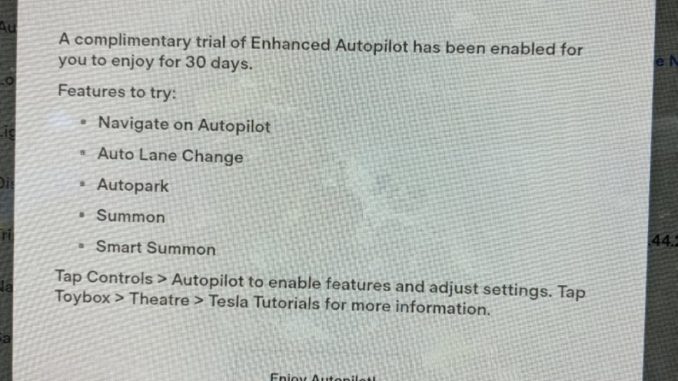 Tesla is apparently in a giving mood this holiday season and is gifting some owners a free 30 day trial of Enhanced Autopilot (EAP). The gift has so far only appeared in Australia and New Zealand, so it is unclear at this time if it will expand further to North America and beyond.
According to several screenshots shared on social media by owners in the two countries, a message appears on the in-car display that says "Happy Holidays! A complimentary trial of Enhanced Autopilot has been enabled for you to enjoy for 30 days."
With the gift owners will be able to try out the full Enhanced Autopilot feature set, which typically costs $5,100 AUD or $5,700 NZD  ($7,800 CAD/$6,000 USD):
Navigate on Autopilot
Auto Lane Change
Autopark
Summon
Smart Summon
UPDATE 11:40pm PT: According to one of our readers in Australia Paul, who received the free trial, he had just installed the holiday update (2022.44.25.3) before seeing the message appear on his display.
This isn't the first time Tesla has given owners complimentary access to EAP. Last year the automaker provided a 14 day trial to owners across Europe, but we have yet to see an EAP trial be offered in North America.
EAP was offered until early 2019 when Autopilot became standard on all Tesla vehicles. The suite of features closely resembles the current FSD offering, with the exception of Traffic Light and Stop Sign Control (TLSCC) which was added several months later.
After many requests from owners it was brought back as an option earlier this year.
Have you received this free EAP trial? If you have, let us know where you are located in the comments below.
Ok this is pretty cool, users are reporting free trials of Enhanced Autopilot for 30 days. I already have it on the Model Y and FSD on the Model 3, but neat they are offering this. Auto Lane Change is definitely the most useful feature. pic.twitter.com/GSVhAj0Nti

— techAU (@techAU) December 23, 2022