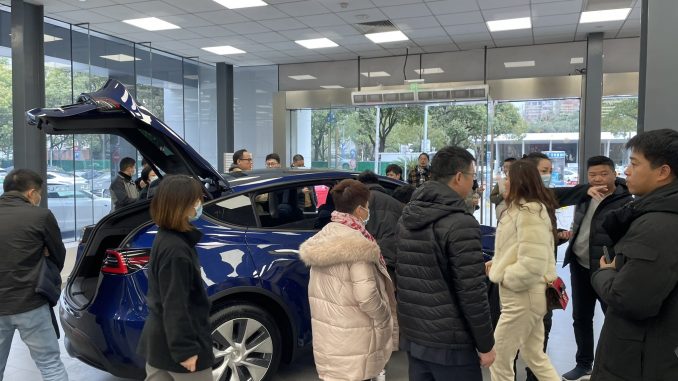 Tesla's price cuts in China appear to be having their desired effect as insurance registrations have grown significantly in January. According to data compiled by China Merchants Bank International (CMBI), a total of 12,654 new Tesla Model 3 and Model Y vehicles were registered across the country for the week of January 9 to January 15, 2023.
That is a 76% increase from the same time period in 2022, and is in stark contrast to a 14.5% decline in the overall auto market in China for the same week, data from CMBI showed. (via Reuters)
Perhaps more importantly it is also a significant increase from the first week of January where just 2,110 units were registered in China.
Tesla MIC weekly insured units
✴️9-15 Jan: 12,654
(ZHU YULONG microblog) https://t.co/LeLW5Lixg6

— Moneyball (@MoneybaII_R) January 17, 2023
While it is promising news to see the substantial increase in insurance registrations, it is still a relatively small timeframe to make any long term conclusions. However, it clearly shows that Tesla's price cuts are working the way Tesla thought they would.
After offering some incentives late in 2022, Tesla lowered prices on January 6 on both the Model 3 and Model Y, bringing them to the lowest point ever in China. Along with the price cuts they also ended a temporary subsidy that was one week old which allowed customers to take up to ¥10,000 off their order and was intended to replicate the national NEV incentive that ended on December 31, 2022.
Following the price cuts in China Tesla followed suit and did the same in North America and Europe, cutting prices by as much as 21%. Those price cuts have also spurred demand as we have heard from Sales Advisors that they are seeing extremely high levels of orders following the changes to the online configurator.