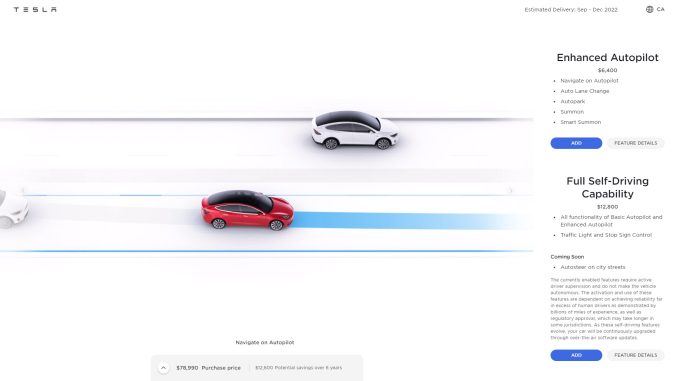 Less than one week after agreeing to bring Enhanced Autopilot (EAP) back to North America, Tesla has added the suite of driver-assist features back to the website in Canada and the United States.
According to the Design Studio, Canadians get the better deal and can buy EAP for $6,400 CAD or about $4,900 USD when you take the exchange rate into account. Customers in the US will have to pay $6,000 USD for the option.
EAP includes almost all of the same features as Full Self-Driving (FSD) Capability, including Navigate on Autopilot, Auto Lane Change, Autopark, Summon, and Smart Summon. The only feature not included is Traffic Light and Stop Sign Control, and of course Autosteer on City Streets, otherwise known currently as FSD Beta.
The option isn't limited to new buyers, as existing owners can also purchase EAP through the mobile app.
UPDATE 9:42pm PST: According to one our readers, EAP owners can upgrade to FSD for another $6,400 CAD, equaling the current purchase price of FSD ($12,800 CAD) by itself. (h/t: @LutionEv)
Tesla used to offer EAP in North America several years ago when Autopilot was still an option for new buyers. That changed in early 2019 when Tesla decided to make Autopilot standard on all new vehicles, and at the same time replaced EAP with FSD.
The move was not a welcomed change by a lot of owners as they didn't want to spend the money to purchase FSD when they could previously have almost all of the same features but for about half the price.
Last week Tesla introduced EAP to Australia and New Zealand, leading Canadian and recent retiree Trev Page (@Model3Owners) to ask Elon Musk to bring it back to North America.
Elon Musk agrees to bring Enhanced Autopilot back to all markets