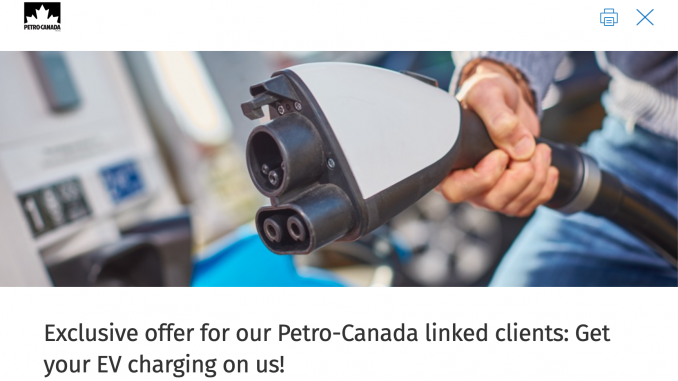 RBC is once again offering their clients free electric vehicle (EV) charging on Petro-Canada's electric highway, although this latest promotion doesn't quite live up to their offer last year.
This year's offer runs from July 19, 2022 until June 30, 2023, during which time eligible customers can receive $100 of free EV charging at Petro-Canada.
According to the terms and conditions of the offer, it is available to RBC clients with a RBC debit or credit card issued by Royal Bank of Canada that is linked to a Petro-Points card. You will be billed for the charging session, but receive a bill credit on your next statement.
If you are eligible you will find the offer in your online banking portal, or in your email inbox.
Although limited to $100, this offer will be helpful particularly for EV drivers in Quebec as Petro-Canada recently increased their EV charging rates in the province by 125%.
Tesla drivers will also be able to take advantage if they have a CCS or CHAdeMO adapter.
Last year the two companies teamed up to provide one year of free, unlimited EV charging at Petro-Canada stations.