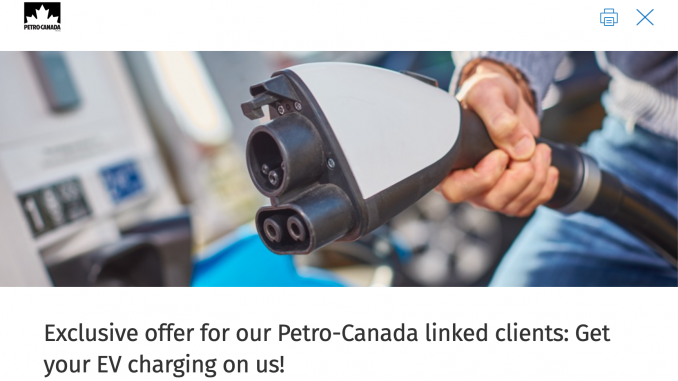 For several years the Royal Bank of Canada (RBC) has offered their clients a discount when filling up their cars at Petro-Canada gas stations. Now the two companies are joining the electric revolution and offering an even better deal to electric vehicle (EV) owners.
For clients with either the RBC Visa Infinite Avion or Cash Back World Elite Mastercard, you can get 1 year of free EV charging at Petro Canada.
To take advantage of the offer, simply visit the current RBC offers section in your online banking account and load the offer. Pay with that credit card on your next visit to charge up your EV at Petro Canada, and you will receive a refund for the amount on your next statement.
The offer is only valid until April 30th 2022, so opt-in now to get the most out of the deal.
Click here to find a Petro-Canada EV charging station near you.
Hopefully this is just the beginning of seeing similar offers from other organizations like CAA, which offers free oil changes to their clients.