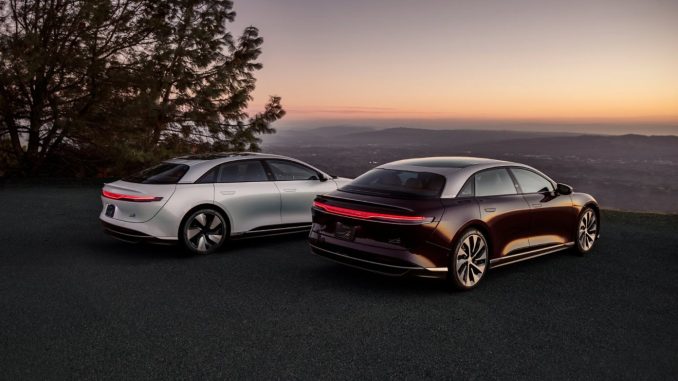 Lucid raised prices on it lineup of Air electric sedans on June 1st, with the increases ranging from $14,000 CAD to as much as $21,000 CAD for the Air Grand Touring variant.
Even though the new prices are now in effect, the luxury EV automaker is allowing customers who placed their orders prior to June 1 to upgrade to a higher trim at the original pricing.
According to an email sent to reservation holders over the weekend and provided to Drive Tesla, the offer is only valid until June 30, 2022. After that date, any upgrade to a higher trim will mean you have to pay the new pricing scheme, which breaks down as follows.
| | | | |
| --- | --- | --- | --- |
| |  Original Price |  New Price |  Increase |
|  Air Grand Touring Performance (sold out) |  $   242,000 |  $     242,000 |  $                  – |
|  Air Grand Touring |  $   189,000 |  $     210,000 |  $        21,000 |
|  Air Touring |  $   129,000 |  $     146,000 |  $        17,000 |
|  Air Pure |  $   105,000 |  $     119,000 |  $        14,000 |
We have only heard of this offer being made to customers in Canada, but if any of our readers in the US have received a similar offer, let us know in the comments below.
Even though they officially started production in September last year, Lucid has only just started delivering their luxury EVs in Canada. The automaker reported the first delivery north of the border on May 9, sharing a video of a Lucid Air backing out of a transport trailer in Ontario.
As of their latest update at the end of the first quarter, Lucid has only delivered 360 cars up to March 31, 2022. Despite the low numbers, the company reports they have over 30,000 reservations, representing potential sales of nearly $3 billion.
The Lucid Air is currently being built at their AMP-1 facility in Casa Grande, Arizona, which has a production capacity of 34,000 units per year. They are expecting to receive a lot more orders in the coming years, having recently announced plans to build a second production facility in Saudi Arabia that will have an annual production capacity of 155,000 units.
Many of those first vehicles will go to the Government of Saudi Arabia who ordered up to 100,000 Lucid Air sedans to be delivered over a 10 year period.
Union Chief says Tesla needs to accept it violated labour laws