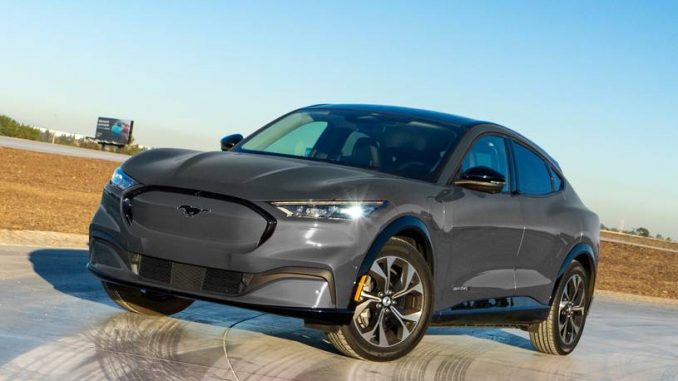 In the inaugural edition of the award, Motoring publication Car and Driver has named the Ford Mustang Mach-E as their 2021 EV of the Year.
The Mach-E electric SUV was able to beat out a list of 11 other EVs during a three-week testing period. The list of contenders includes the likes of the Nissan Leaf, Audi e-tron, Porsche Taycan, Volvo XC40, VW ID.4, and more.
Also among the list was almost the entire Tesla lineup. The only car not included in the testing was the Model X, which Car and Driver said they skipped over because it was "low-selling" and "expensive".
In awarding the Mach-E the title of EV of the Year, Car and Driver called the automaker's first EV a "prophet", saying the car's familiar feel will help push buyers towards an EV.
"If an automaker wanted to convert people from EV skeptics to EV evangelists, it's hard to imagine a better vehicle for the job than the Ford Mustang Mach-E. The Mach-E arrives in the familiar shape and size of the crossovers Americans love, at a price that competes with gas-powered alternatives, and with a design that gets noticed. For new EV converts, piloting a Mach-E isn't so different from driving a gas-burning SUV that it feels foreign, yet the experience is futuristic enough to be exciting. It's the right car to bring drivers along during this watershed moment as EVs transition from niche alternative to new normal."
Part of the reason they named it the best EV was because of its fake engine noises, saying it "adds drama" to the driving experience. They even went so far as to criticize Tesla for not piping the fake rumble of an internal combustion engine (ICE) into the cabin.
"Tesla will drive the final nail in the coffin of internal combustion when it figures out how to make the EV driving experience as gratifying as that of a hot-rod sedan, including the sounds. If the turn signals can be programmed to make fart noises, we don't think we're asking for too much."
They were also critical of the Model Y's build quality as the touchscreen display in their rented test vehicle had issues, along with a squeak from the right rear seat.
Issues also prevented them from considering the Model S as a contender for the award after their rented Long Range Plus test vehicle had a front motor failure during testing.
You can read their full review of each vehicle considered for the EV of the Year award here.