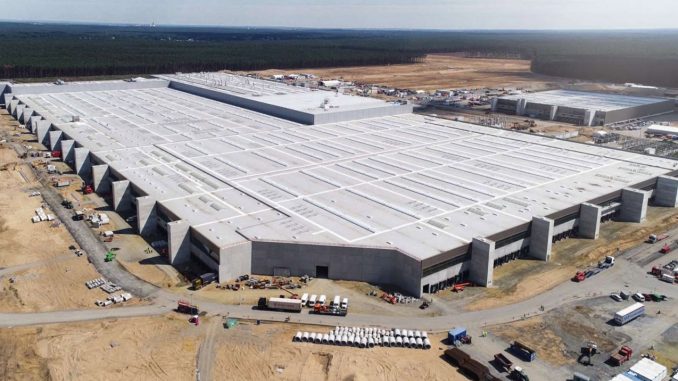 Tesla CEO Elon Musk left his family vacation in Italy on Wednesday and travelled to Brandenburg, Germany to meet with officials over the status of Giga Berlin.
Among those who met with Musk was Economy Minister Jörg Steinbach, who shared a photo of the meeting on Twitter. Steinbach said the meeting was also attended by Brandenburg's state premier Dietmar Woidke.
"Very relaxed evening meeting with @elonmusk, D. Woidke, co-workers on both sides and myself. In an atmosphere of mutual trust we discussed the remaining tasks. Thanks to you and your great family for this visit, Elon!," Steinbach said.
Sehr entspanntes abendliches Treffen mit @elonmusk, #DWoidke und mir, sowie Mitarbeitern auf beiden Seiten. Wir haben uns vertrauensvoll über die noch anstehenden Aufgaben ausgetauscht. Danke für den Besuch der ganzen Familie, Elon! @Stk_Brandenburg pic.twitter.com/gk8AFKpSVQ

— Jörg Steinbach (@joergstb) August 11, 2021
According to the tweet from Steinbach, Musk is in Germany with the hopes of getting the final approvals for his new factory more than a year and a half after construction first started.
The lengthy approval process has frustrated Musk, who was hoping to have the factory operational by June 2021. It is now looking like a late-2021 start of production is more likely, a timeline that is supported by a statement in the company's Q2 2021 earnings report which said they "believe" they are still on track to have the first cars roll off the production line in 2021.
Even with the delays, crews are doing their best to keep up with Giga Texas. The factory in Austin should start trial Model Y production in the coming days, if not already.
Over the weekend nearly a dozen Model Y bodies were spotted arriving at Giga Berlin ahead of trial production in Germany.