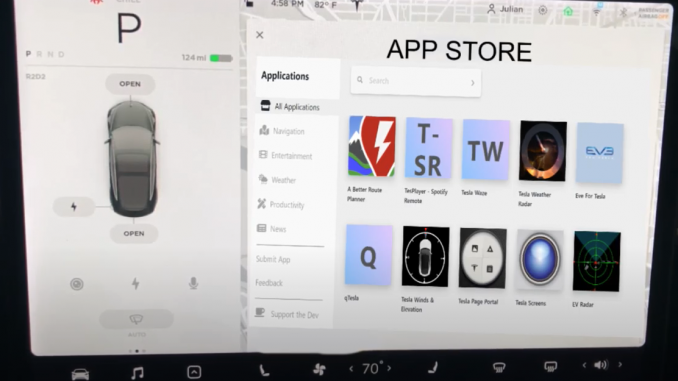 As Tesla vehicles evolve over time, the idea of an app store has been floated more than once, even by Tesla CEO Elon Musk himself.
It was most recently mentioned during the Q2 2020 earnings call, where Musk said you would have to have to sell a lot of software "on the app store or whatever" to reach the level of revenue possible from people updating to Full-Self Driving (FSD).
During an interview on the Ride the Lightning podcast in 2019, Musk said as the number of Tesla vehicles on the road grows, it makes more sense to start thinking about developing "games and other applications for Tesla."
Since those comments, the automaker has added several hundred thousand more vehicles to the road, most of them Model 3's. With a total fleet of over 1,000,000 vehicles today, has it now reached the point where it makes sense to create an app store?
Based on recent job postings published by Tesla and discovered by YouTuber and Tesla webapp creator Mother Frunker, an app store may be coming to Tesla vehicles sooner than we think.
As Mother Frunker points out in his video below, it all starts with something called ReactNative, an open-source mobile application framework upon which the current Tesla mobile app is made.
Where it gets interesting is a post on the React Native subreddit purportedly made by someone at Tesla looking for React Native talent.
Combine that with a recent job posting by Tesla on their Careers Page, and it looks like Tesla is actively working on the development of an app store.
Check out the full video below for all the details, including the new jobs Tesla posted recently.
When do you think we'll be seeing a Tesla app store? Let us know in the comments below.