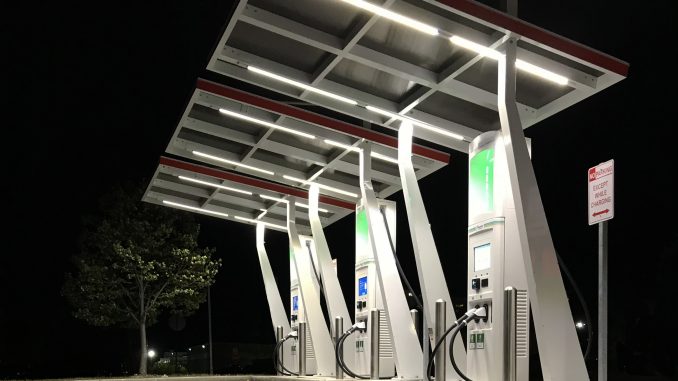 Electrify Canada has no plans to slow down their expansion across the country. After opening their first electric vehicle (EV) charging station at the Toronto Premium Outlets in September 2019, the company has grown to offer 18 charging stations in four different provinces.
In 2020 new DC fast charging stations opened in British Columbia , Alberta, and Quebec, bringing the total numbers of individual fast chargers across their network to 72.
Also Read: Electrify Canada opens first DC fast chargers in Quebec
The company also introduced a simplified, cheaper pricing structure last year, and announced its intention to add overhead canopies to all of its stations.
"With locations now in four provinces, we're eager to capitalize on this growth and further densify the network – increasing the accessibility of ultra-fast, reliable and convenient charging infrastructure to serve the growing number of Canadians choosing to drive electric," said Anthony Lambkin, senior director of operations for Electrify Canada.
Their growth will continue this year as the company closes in on its original target to have 32 charging stations with a total of 128 fast chargers.
To locate a charger and view upcoming locations, visit their website.
Electrify Canada locations open in Ontario:
Canadian Tire, 75 Mapleview Dr W, Barrie, ON
Canadian Tire, 2360 Parkedale Ave, Brockville, ON
Toronto Premium Outlets, 13850 Steeles Ave W, Halton Hills, ON
Canadian Tire, 686 Queenston Road, Hamilton, ON
Canadian Tire, 2560 Princess St, Kingston, ON
Canadian Tire, 330 Coventry Rd, Ottawa, ON
Canadian Tire, 441 Gibb St, Oshawa, ON
Manulife, 1330 Exmouth St, Sarnia, ON
Canadian Tire, 4630 Sheppard Ave E, Scarborough, ON
Canadian Tire, 37 Mill St E, Tilbury, ON
Canadian Tire, 158 Primeway Dr, Welland, ON
Electrify Canada locations open in Alberta, British Columbia, and Quebec:
Shops of Canmore, 300 Old Canmore Rd, Canmore, AB
District of Hope, 349 Fort St., Hope, BC
Canadian Tire, 1441 Hillside Dr, Kamloops, BC
Canadian Tire, 1655 Leckie Rd, Kelowna, BC
Canadian Tire, 2761 Forksdale Ave, Merritt, BC
Montreal Premium Outlets, 19001 Chemin Notre Dame, Mirabel, QC
Canadian Tire, 3525 Boulevard Des Forges, Trois-Rivières, QC