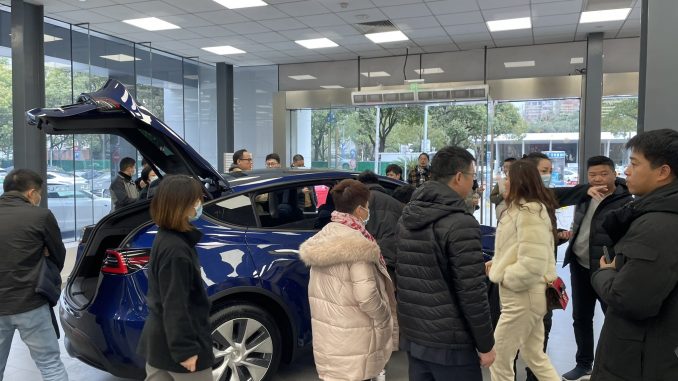 The first deliveries of the made-in-China Tesla Model Y will begin this week, starting with a special delivery ceremony to be held January 18, 2021.
Tesla has begun sending out invitations to the ceremony to some owners in Shanghai. The special event will take place at the Minghang Tesla Center at 10:30am local time (6:30pm PST).
JUST IN: some MIC Model Y owners in Shanghai have received the invitation from @Teslacn to attend the MY delivery ceremony, starting at 10:30am on Jan 18th at Minghang Tesla Center. An exciting new chapter is about to start in Tesla China story. @elonmusk pic.twitter.com/gdJNnddmW0

— Ray4Tesla⚡️🚘☀️🔋 (@ray4tesla) January 17, 2021
Officially announced on January 1, 2021, the Model Y built out of Giga Shanghai has a number of features not yet seen in North America. For the first time a vehicle other than the flagship Model S and X will have Bioweapon Defense Mode, a feature particularly important in dense urban cities in China.
The first deliveries will kick off what will be a record year for the automaker in China, and around the world. In the world's largest automobile market, the electric SUV is expected to be very popular among Chinese buyers, especially given its attractive price point.
The Long Range (LR) Model Y built out of Giga Shanghai starts at ¥ 339,900 ($66,277 CAD). The Performance variant starts at ¥ 369,900 ($72,126 CAD).