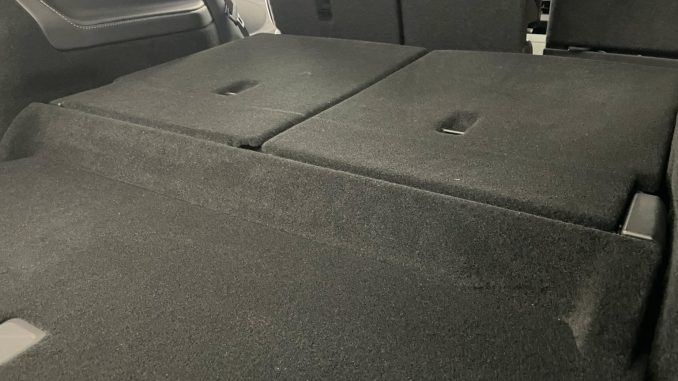 Earlier this week the first of the new 7-seat configurations of the Tesla Model Y were shipped to Tesla showrooms, giving us the first look at the production version of the third row with people inside.
One of the features that disappointed some perspective owners was a large bump in the rear cargo area when the third row was folded flat. The approximate 5-6″ bump would not only make it difficult to put long pieces of cargo in the rear of the Model Y, it could also make it uncomfortable for people wanting to camp in the electric SUV.
Fortunately Tesla thought ahead, and came up this ingenious design trick. Discovered by Rey A. on Facebook, all you have to do is flip the sub-trunk cover over and you have a perfectly flat rear cargo area.
If you were worried about the "bump" when the Tesla Model Y third row was folded flat, don't worry, Tesla has your back. Simply flip the sub trunk cover over and voila, perfectly flat cargo area.

Also, the third row does not have heated seats (video by Rey A.) pic.twitter.com/H4BkVLvaUg

— Drive Tesla 🇨🇦 #FSDBetaCanada (@DriveTeslaca) January 16, 2021
Not only does this design trick create a flat floor, it also creates more cargo room when the sub-trunk cover is in its original position.
We also learned last night Tesla has begun delivering Model Y's in US with the heated steering wheel activated. The highly anticipated feature warms up to 98.8°F (37.1°C) in about 2 minutes.
Here are some pictures showing the cargo area with the sub-trunk cover in both positions.