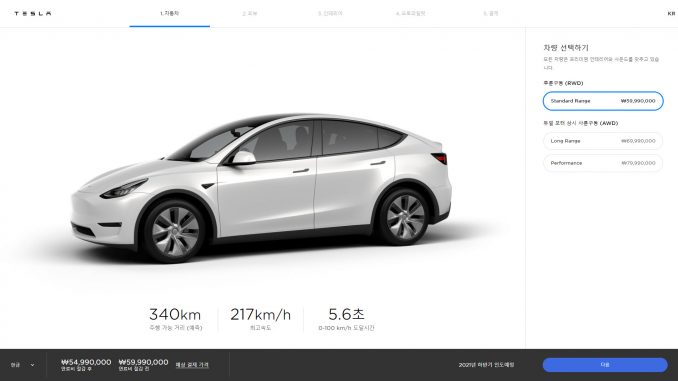 Fresh off launching sales in Singapore and Puerto Rico, Tesla has launched sales of the Model Y in South Korea.
All three variants of the electric SUV are available to buyers in South Korea, all of which are eligible for at least some government subsidies.
The most affordable Standard Range (SR) Model Y is priced at ₩59,990,000 ($68,900 CAD). As Tesla is known to do, it is priced just below ₩60,000,000, meaning it is eligible for the full amount of the governments ₩18,200,000  ($20,900 CAD) electric vehicle (EV) subsidy.
Buyers of the Long Range and Performance variants, priced at ₩69,990,000 ($80,400 CAD) and ₩79,990,000 ($91,900 CAD) respectively, will receive half of the subsidy.
Some local government offer additional subsidies, taking more money off the sticker price.
The online Design Studio says the first deliveries of the SR Model Y will begin in the second half of 2021. The LR and Performance variants do not have an estimated delivery date listed.
If you want the 7-seat option in South Korea, the website says it "will be released later."
The addition of the electric SUV completes the lineup in South Korea. The Model 3 was launched in the country in August 2019 and the Model S/X in 2018.