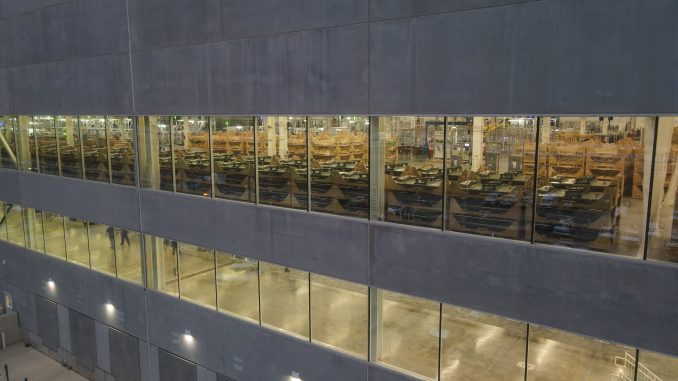 Tesla looks like it is preparing to ramp up production of the new Model Y All-Wheel Drive (AWD) with 4680 cells soon as the third floor of Giga Texas is currently filled with with structural battery packs waiting to be installed into new cars.
During an early-morning drone flyover by Joe Tegtmeyer (@JoeTegtmeyer) spotted hundreds of the structural battery packs on the third floor of the factory. Many of the packs are sitting in crates with the letters "YSB" painted on the side, confirming these are indeed Model Y Structural Battery packs.
If that wasn't enough, the packs also very clearly have the seat risers mounted directly to the pack, an innovation previously showcased by Tesla during the Giga Berlin County Fair and Giga Texas Cyber Rodeo, and later revealed in detail during a teardown by Munro and Associates.
The big question is whether these packs were put together in Giga Texas, or shipped in from another location, such as Tesla's Kato Rd. facility in California.
During the company's Q2 2022 earnings call, Senior Vice President, Powertrain and Energy Engineering Drew Baglino explained that the 4680 cell production equipment had been installed and commissioned at Giga Texas, and that they were hoping to officially begin 4680 production in Q3. As we have seen in previous drone flyover, that equipment was also installed on the third floor.
Given we are nearing the end of August, the second month of Q3, it is very possible these packs are filled with cells produced at Giga Texas.
However, it is difficult to explain why they would be sitting in shipping crates if they were indeed produced at Giga Texas.
What do you think, were these made at Giga Texas or produced at a different location? Let us know in the comments below.
You can check out the full drone flyover in the video below.