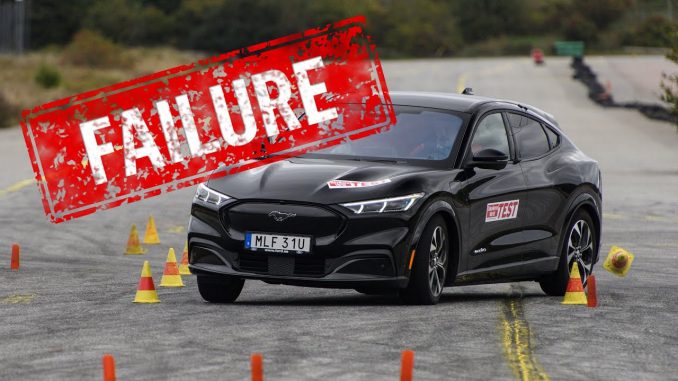 Ford touts the Mustang Mach-E as having "exceptional performance and handling." While the former may be true in comparison to their gas-powered vehicles, the latter is not when it comes to the famed Moose Test.
If you're unfamiliar with the Moose Test, it is a test to see how well a vehicle can maneuver around a suddenly-appearing obstacle in the road at high speed.
The Swedish motoring publication Teknikens Värld recently got their hands on the Mach-E, and they were not very impressed with its performance. According to the host the Ford underperformed during testing, only able to achieve a top speed of 68km/h (42.3mph) without losing control.
At speeds higher than that, the rear end of the Mach-E became "very unstable". The host blames the electronic stability control (ESC) system, saying it needs to be much more aggressive to keep the rear end in check.
They also tested a Tesla Model Y and found it had a "completely different behaviour" in the test. They were able to complete the test with a high speed of 75km/h (46.6mph), a full 7km/h faster than the Mach-E.
But that is still lower than a Model Y Moose Test performed earlier this month which clocked a top speed of 83km/h (52mph). That is a considerable 15km/h faster than the Mach-E.
It wasn't just the Model Y that outperformed the Mach-E. The Hyundai Ioniq 5 was also tested and achieved a top speed of 72km/h (44.7mph).
You can watch the full video below.
h/t: InsideEVs