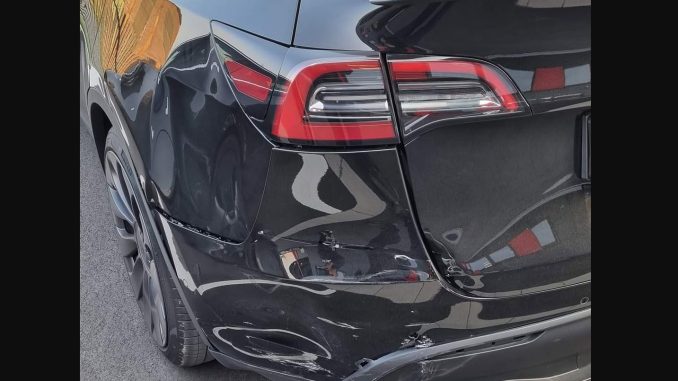 Tesla CEO Elon Musk personally delivered the first made-in-Germany Model Ys to their new owners earlier this week.
Unfortunately just two days later and one of those first 30 vehicles has been involved in an accident.
The particular Model Y Performance involved was 'Giga 0012', owned by Minnebusch Jörg, who shared photos of the damaged SUV on Facebook.
According to Jörg, he was rear-ended by an Audi driver while stopped at a red light. Fortunately there were no injuries.
Jörg tells Drive Tesla he has already dropped the electric SUV off at a body shop and they will be evaluating the damage tomorrow.
The damage appears to be relatively minor, but will likely take several weeks for the required parts to arrive and be repaired.
That will be a painful pill for Jörg to swallow, who has been waiting to drive his Model Y Performance for three years since he placed his order.
Now that Giga Berlin is up and running, we should start seeing more Model Y Performance SUVs on the streets of Germany and Europe.
Until now only the Long Range variant has been imported from Giga Shanghai.
Giga Berlin is open – Elon Musk delivers first 30 Tesla Model Y's and does a dance to celebrate