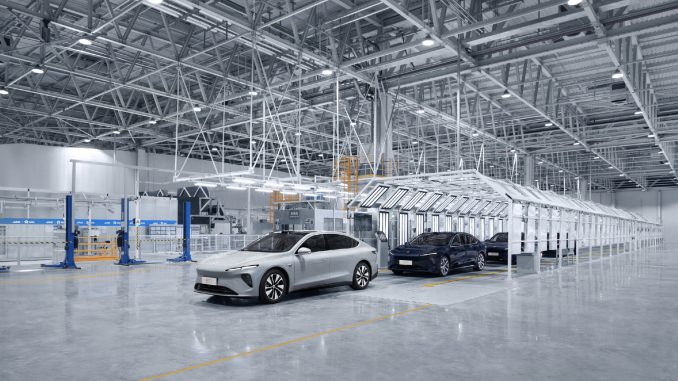 Chinese electric vehicle (EV) maker NIO announced its Q4 and full year 2021 results, showing an impressive increase in deliveries year-over-year (YoY).
In the fourth quarter of last year NIO delivered a total of 25,034 EVs. Its biggest seller was the ES6 electric SUV (12,180), following by the EC6 (7,171) and the ES8 (5,683).
That was an increase of 44.3% compared to the same time period in 2020, and an increase of 2.4% from the third quarter of 2021.
For the full year,  NIO delivered 91,429 EVs, a 109.1% increase YoY, even facing supply chain challenges.
Revenue was also up, increasing 122.3% to ¥36.1 billion ($5.7BN USD) for 2021. Q4 revenue came in at ¥9.9 billion ($1.5B USD).
Despite the increasing sales, the automaker still experienced a net loss of ¥2.1 billion ($336 million USD) in Q4 2021, and ¥4.0 billion ($630 million USD) for the full year.
NIO ET7
Ahead of the earnings announcement, NIO shared a photo on their official Weibo account of the first ET7 luxury electric sedans rolling off the production line at their manufacturing facility in Hefei.
This suggests the ET7 is on track for deliveries to start on March 28, 2022 as previously announced.
The luxury electric sedan will have an estimated driving range of 621 miles (1,000km) from its 150kWh battery pack.