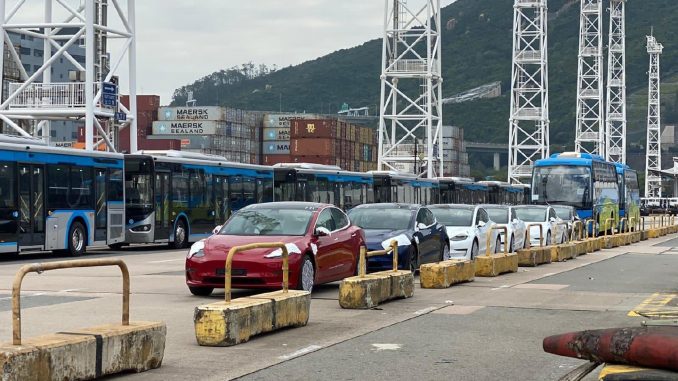 The first made-in-China (MIC) Model 3's featuring what appears to be all of the new refreshed features have been spotted in Hong Kong.
Until now, all of the Model 3's featuring the new black trim, new wheels, and other items on the long list of changes announced last month have only been produced at the automaker's facility in Fremont, California.
The production lines at Giga Shanghai were still producing the pre-refresh versions, but with the new LFP batteries. That appears to have changed, as six poorly disguised MIC Model 3's have landed in Hong Kong.
As you can see in the photos below, Tesla has attempted to cover all of the exterior refresh items. This includes the headlights, side repeater cameras (now in black), and even the new wheels. Typically when Tesla ships a vehicle, only the black window trim and door handles are covered to protect them during transit.
The VINs, beginning in LRW, indicate the cars were made at Giga Shanghai, and not Fremont. (h/t @cyfoxcat via @Ray4Tesla).
This is an interesting development as just this week media in Hong Kong were among the first to get their hands on a US made Model 3 with all of the refresh items, except the new headlights.
Given these MIC refreshed Model 3's have now appeared outside of China, there is a good chance they will start appearing in other nearby markets soon. Just last month, Tesla began exporting Model 3's to European markets, with plans to further expand to Australia, New Zealand, and other Asia-Pacific markets.