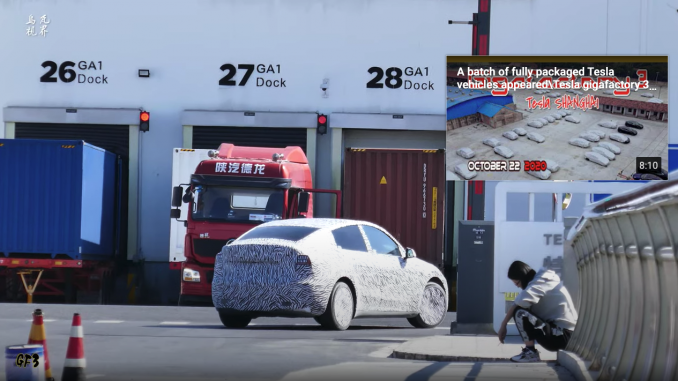 As Tesla prepares to begin production of the Model Y at Giga Shanghai, a fully camouflaged version of the electric SUV was recently spotted entering the factory.
Earlier this week we reported that Tesla had registered the made-in-China Model Y with the Chinese government (MIIT), paving the way for deliveries to begin soon.
Proof the automaker is almost ready to begin mass production of the electric SUV was found on the morning of November 6, one day after the MIIT approval mentioned above.
According to the WU WA channel on YouTube, the camouflaged Model Y was spotted entering the west gate of Giga Shanghai, presumably after performing some road testing.
According to a report by Tesmanian, a source familiar with the matter suggests Giga Shanghai could begin production before the end of November. If true, that will give Tesla the chance to possibly get some deliveries in before the end of Q4 2020, and help the automaker reach its annual guidance of 500,000 vehicles delivered.
This isn't the only camouflaged Model Y spotted recently. Just last month one was spotted on the back of a car carrier in California, just outside of Tesla's Design Studio in Hawthorne. Although it was camouflaged, it appeared to be a Euro-spec version of the electric SUV, hinting Tesla was possibly attempting to hide a new colour that will be produced at Giga Berlin.
Check out the full video below.