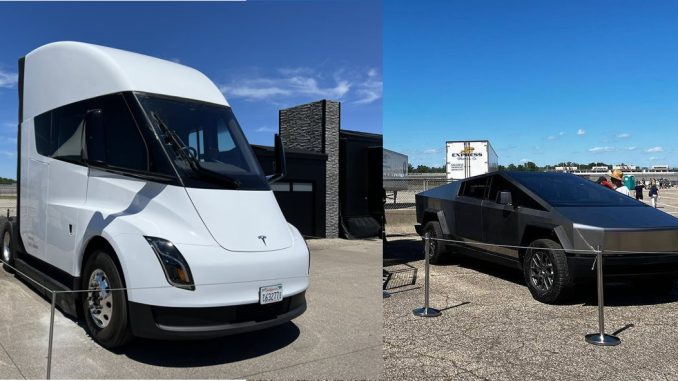 While many people worldwide eagerly await Tesla's upcoming Cybertruck and Semi, the pair of electric vehicles have made yet another appearance in public at the Michigan International Speedway this weekend.
Both prototypes remained essentially unchanged from the most recent versions. However, the Cybertruck had a significant omission; the wiper.
https://twitter.com/DriveTeslaca/status/1537948734171926528
The Cybertruck's wiper had surprisingly become a point of focus for the upcoming truck when one might be hard-pressed to remember what the wipers on other vehicles look like.
The wiper first became the center of attention when a huge, ungainly version appeared on a Cybertruck prototype last year. It had to be huge because of the unusually large windshield, and Elon Musk admitted the design team did not consider it initially. The single wiper was parked on the driver's side of the windshield.
Tesla eventually replaced the first one with a slimmer version, but it was still conspicuous large.
Then last week when it appeared in California at the Moss Landing Megapack project, it had half a wiper.
Just what Tesla plans to do by removing the wiper from the prototype sighted in Michigan is unknown. However, this is most likely not the final design, and a few details could still change about the truck before Tesla starts producing them next year at the new Giga Texas.
At the end of the short clip, the Cybertruck again became a mobile snack vendor as riders on the bed threw popsicles into the crowd.
Earlier this month, fans were able to see the electric pickup truck's interior when it appeared at the ribbon-cutting ceremony for the Elkhorn Battery Energy Storage System in California.
The Semi's production has also been postponed to at least 2023, although Tesla has been installing the Megachargers for prospective clients in preparation for deliveries. It was sighted being tested on long-range driving in California days ago.
Tesla Megacharger installation at Giga Nevada wraps up construction