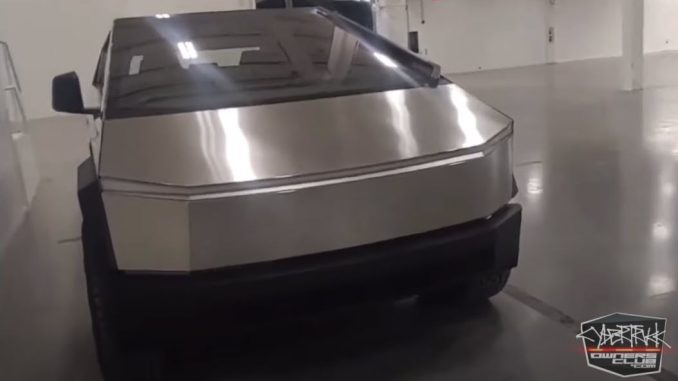 Last night we shared with you a couple of leaked photos of the latest Cybertruck, giving us our closest look yet at what is presumed to be the Alpha prototype build.
Unsurprisingly, a new walk-around video has leaked showing us an even closer look at several new design features that weren't included, or have changed since the original prototype.
Side Repeater Cameras
On the original prototype the side repeater cameras were built in to the wheel arch of the electric truck and hidden behind a glass panel, similar to the b-pillar cameras on other Tesla cars.
While the location hasn't changed, the design has as they now take up just a small portion of the wheel arch.
Cybertruck Door Opening
We got a glimpse of this feature in the leaked photos, but this new video gives us a much better look at how the Cybertruck doors will be opened without door handles. As we suspected, there is an area on the b-pillar and by the rear door to "swipe to open".
Cybertruck Wiper
It is of course hard to miss the massive mono-wiper on the Cybertruck. The good news is Musk has said they are still working on the final design for the wiper and the production version will not look like what it does today.
Cybertruck Vault
The video also gives us an up-close look at the open Cybertruck Vault, or bed of the truck with the tonneau cover open. Unlike the original prototype, Tesla has added a plastic liner to the bed of the truck to make it more durable. We can also tell from the ridges on the side rails that the cover is still retractable.
Cybertruck Charge Port Location
Although it is tough to tell, it looks like the Cybertruck's charge port will be located at the rear of the truck and integrated into the wheel arch.
Watch the full video and let us know what else you spot in the comments below. (Updated with a higher quality video with audio)